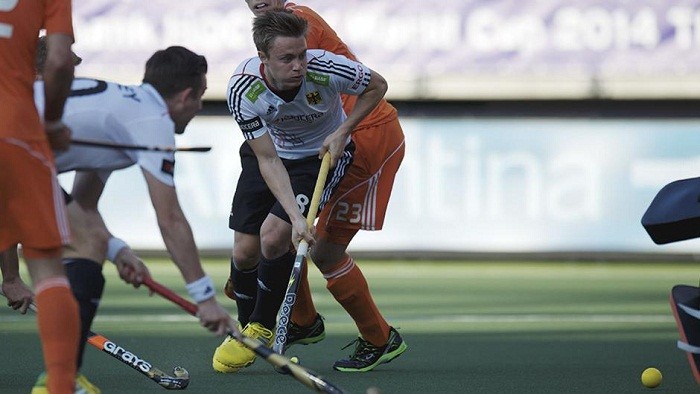 After going down against Argentina, New Zealand is looking to bounce back against Olympic champions Germany in a must-win encounter, while England eves - already out of the semifinal reckoning - will be aiming to score their first points of the tournament at The Hague on Sunday.
The Black Sticks and Argentina are tied at six points apiece, though the former holds an advantage due to a better goal difference. Argentina proved to be a better side in penalty corner conversion and scored two crucial goals when the Black Sticks were searching for the winner in the closing stages.
New Zealand need to defend well against Germany and convert whatever chances they get. The Black Sticks' coach Colin Batch pointed out that Argentina's success came in penalty corners and his players should have defended well.
"If you look at the facts they scored three of four penalty corners and we got none out of three, so obviously the game was won in those areas," Batch said. "Our first half was quite good, we created two very good chances and they defended well to their credit. It would've been nice to score that goal and go into halftime up 1-0 which could have really changed the game."
Germany is in fourth position with four points in Group B and a win here will put them in the semifinal reckoning. They lost a closely contested last match against Netherlands, though they created a number of chances and penalty corners.
After the defeat against the Dutch, Germany coach Markus Weise said they have an outside chance of making it to the semis and his players are focused on winning the remaining matches.
"We have to rely on other results and that is never good," Weise pointed out. "We are going to focus on the things we can influence."
Meanwhile, England eves are out of the semifinal race after facing a 4-1 defeat at the hands of South Africa and, with two matches in hand, they will be hoping to finish as high as possible. The third-ranked side is yet to win its first point in the tournament.
England are to face defending champions Argentina next, and then European champions Germany in last group game. English skipper Kate Richardson-Walsh stated the team should concentrate on salvaging some pride from the remaining two ties.
"It's a matter of pride now. We have to prove that we are worthy of wearing the shirt," Richardson-Walsh said. "We're just not clicking at the moment. We don't make the sacrifice we do, and train as hard as we do, for performances like that."
Schedule of Play
New Zealand vs Germany (Men) Starts at 10:30 am CET, 2:00 pm IST
South Korea vs Argentina (Men) Starts at 1:00 pm CET, 4:30 pm IST
United States vs Germany (Women) Starts at 2:30 pm CET, 6:00 pm IST
England vs Argentina (Women) Starts at 4:00 pm CET, 7:30 pm IST
China vs South Africa (Women) Starts at 5:30 pm CET, 9:00 pm IST
South Africa vs Netherlands (Women) Starts at 7:45 pm CET, 11:15 pm IST
Where to Watch Live
The first match, between New Zealand and Germany, is scheduled for a 10:30 am local time (2:00 pm IST) start, with England vs Argentina match set for a 2:30 pm local time (6:00 pm IST) start. Live coverage in India is on Ten Sports, with the live streaming option HERE. Viewers in the US can catch the action on ESPN 3 or via the live streaming option HERE. The UK viewers can watch the matches on Sky Sports 3, while they can also catch the action live online HERE.