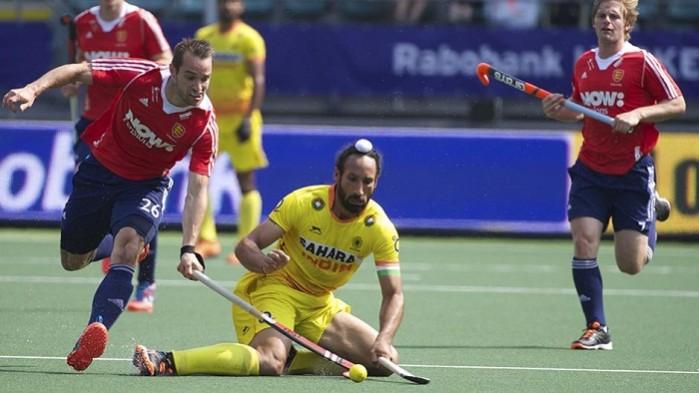 India hockey team's vulnerability in the closing stages is no longer a secret. Even after being the better team in most parts of the last two games, India ended on the losing side against Belgium and England in the Hockey World Cup at The Hague.
India conceded a winner against Belgium just 15 seconds before the hooter, while England scored the winner a minute before the fulltime. India's defense is under scrutiny, especially in the dying stages, and there is also a question mark on their ability to keep possession against the top teams.
India will face Spain on Thursday, who are two places below them in the world rankings. India's chief coach Terry Welsh praised his team for punching above their weight in the first two matches, but was disappointed with ending up on the losing side.
"The boys have delivered a great game of hockey yesterday though the end result was disappointing," Welsh said. "We are working on our strategy by analysing the mistakes made in the last two games and we will try to change our game accordingly. These changes will also apply on rotation of players and goalscoring strategies.
"The team is working on its tactics in the training sessions for the next match and we are determined to give a great performance for the upcoming matches against Spain, Australia and Malaysia."
Skipper Sardar Singh said while India played pretty well against Belgium and England, they have nothing to show for it and they now need to rectify their mistakes in the next three games.
"The team has put up a very competitive challenge against both the higher ranked teams Belgium and England; it was only towards the end of both the games that we fumbled and gave away the match," Sardar said.
Sardar added he is disappointed with his team's performance in the crucial stages, but the players are working hard to bounce back in the remaining ties after back-to-back losses.
"Yes, it is extremely disappointing to have lost such matches where the team had put in so much of efforts. We are working on our mistakes in team meetings and practice sessions."
India is currently in fifth place, without any points, behind Spain in Pool A of the World Cup with two defeats in as many games.