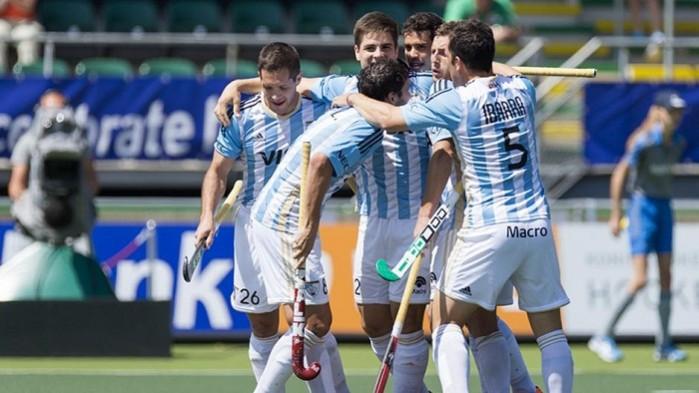 Olympic champion Germany is set to face South Korea in a crucial Group B match, while Argentina will lock horns with South Africa in a bid to qualify for the semifinals of the Hockey World Cup at The Hague on Tuesday.
While Argentina just requires a draw against The Lads to book semifinals clash with the defending champions Australia, Germany not only needs to beat South Korea, but is also relying on the Argentina match's result.
Argentina's Augstin Mazzilli said the team is not under pressure and concentrating on performing well in the upcoming match. Their performance has caught everyone's attention of late. Despite of not playing international hockey lately, they have emerged as serious medal contenders.
"We are taking this one game at a time, so now we focus on South Africa," Mazzilli said. "It (against Korea) was probably our best performance because while we were scoring goals, we also defended very well and that has not always been the case. We also started brilliantly and that is always important."
"We have really focused on our fitness," he added. "We have some tough games coming up, so we need to be able to play to our level for the whole 70 minutes. That is the way we will match the Australians and the Dutch. They always play to the last second of every game."
Germany displayed a much better performance against New Zealand, as their five-goal feat whistled their revival in the tournament. Although it came a bit late for the 2012 Olympic gold-medallist, as other results in the group will decide their fate for qualifying to the medal round.
The Germans conceded late goals from penalty corners in their last encounter and coach Markus Weis pointed out that it could cause trouble in the crucial match.
"Obviously I was not pleased that we conceded goals in the last minutes and that is something that we must look at," Weise said. "But I am pleased that we put our goals away. That might change our momentum."
The hosts Netherlands have already booked a semifinals clash with England and they are set to lock horns with the Black Sticks in their last group match. New Zealand after winning the first two games, lost momentum and went down in the last two encounters.
The Black Sticks would be aiming to finish their group stage with a win and get back on the track, but they will be playing their toughest match of the tournament so far at the Kyocera Stadium. Despite Andy Hayward's hattrick, they failed to register win, but their coach Colin Batch was pleased with the fighting spirit of his team.
Schedule of Play
Argentina vs South Africa (Men) Starts at 10:30 am CET, 2:00 pm IST
Germany vs South Korea (Men) Starts at 1:00 pm CET, 4:30 pm IST
United States vs South Africa (Women) Starts at 2:30 pm CET, 6:00 pm IST
Germany vs England (Women) Starts at 4:00 pm CET, 7:30 pm IST
Argentina vs China (Women) Starts at 5:30 pm CET, 9:00 pm IST
New Zealand vs Netherlands (Men) Starts at 7:45 pm CET, 11:15 pm IST
Where to Watch Live
The first match, between Argentina and South Africa, is scheduled for a 10:30 am local time (2:00 pm IST) start, with New Zealand vs Netherlands match set for a 7:45 pm local time (11:15 pm IST) start. Live coverage in India is on Ten Sports, with the live streaming option HERE. Viewers in the US can catch the action on ESPN 3 or via the live streaming option HERE. The UK viewers can watch the matches on Sky Sports 3, while they can also catch the action live online HERE.