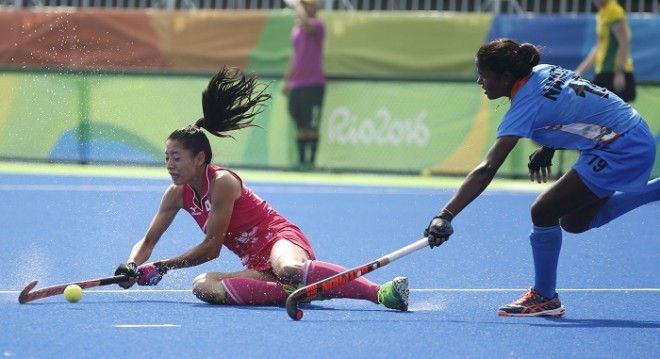 India women could not start their Rio 2016 Olympics campaign on a winning note, but they showed huge character to come back from 0-2 down to earn a point from the game. The final score read 2-2 in a high-tempo match.
The all-Asia contest was a cagey affair in the first five minutes, with both teams failing to penetrate into the danger area. Though there was space for both teams to play around with, India and Japan forwards were not able to take advantage of the situation.
India's finishing was not impressive when they received few chances but Japan took lead in the final minute of the quarter after Emi Nishikori converted a penalty corner.
The opening goal buoyed Japan, and they applied pressure in the second quarter, and nearly snatched their second goal. India's goalkeeper, Savita was sharp to keep the ball out. Japan looked a superb team in the second 15 minutes, as they doubled their lead with a swift break, which was finished by Mie Nakashima.
India started the second half in an amazing manner, with Poonam Rani scoring with a low hard shot in the first minute of the third quarter. India received another penalty corner, a few minutes later, but Rani mishit the ball, and a chance went begging.
The Japanese players were playing the game at a high tempo, but India's defence were also upto the task, making it for an entertaining view. India, who enjoyed a good spell in the third quarter, drew level as Lilima Minz found the back of the net in the 40th minute.
The game was poised brilliantly, with score reading 2-2 at the start of the final quarter. Both teams were looking for the elusive goal to earn three points, and Japan came close to scoring, but India's defence once again stood firm to deny the goal.
India's goalkeeper Savita was one of the best players in the game, and played an important role in denying Japan the winning goal in the final few minutes of the match. India should be pleased with their determined approach, but will need to play better against Great Britain on Monday.