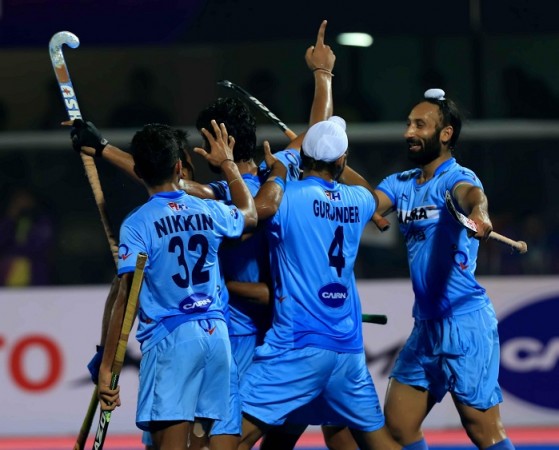 India suffered an unfortunate goal in the dying minutes of the game to draw the first Test of the three-match hockey Test series against Australia in Rajnandgaon, Chhattisgarh, on Thursday, 19 November. The first Test match ended in a draw with the score reading 2-2.
It was mixed day for India on the green turf. There were plenty of positive points for India, especially their penalty corner conversion, with VR Raghunath in sensational goal-scoring form as he scored two goals via drag-flick.
Australia started the game on the front foot with a high-pressing game, making India's defence look vulnerable at the back. Australia scored the first goal of the game in the ninth minute, made possible only by an easy India turnover. Dylan Wotherspoon found the back of the net with ease.
However, India gradually clawed back and started to dominate the game in front of a jam-packed stadium, where the crowd was egging on the home team for an equaliser. Raghunath brought some respite to the fans as he scored a decent flick via a penalty corner in the second quarter of the game.
The game was delicately poised at 1-1 at the end of the first half. The home team started the third quarter brightly, with Raghnunath once again finding the back of the net to help India take the lead.
With the score now at 2-1, Indian hockey fans were biting their nails in the final quarter, because the men in blue have made a habit of conceding late goals, as was witnessed in the Hockey World League in Belgium. The fears came true again as India conceded a late goal in the fourth quarter to help Australia come back into the game.
Australia began to pile the pressure on India in the last few minutes, but the home team somehow survived the onslaught in the dying minutes to end with a draw.
India might have been proud with their display against the number one team in the world, but their performance — when they are under pressure — can improve in the near future .
The India players gave away balls very easily on their own half, which they cannot afford to do in the remainder of the Test series. The second and the third matches of the Test series are set to be played in Raipur on Sunday and Monday, respectively.