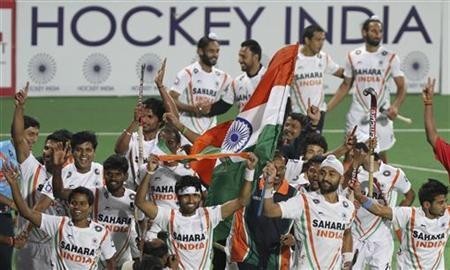 Hockey India has sacked chief hockey coach Michael Nobbs following poor performance of the team over the last two years. The decision was taken after the team finished sixth at the FIH World League last month.
The 59-year-old former Australian Olympian, who was appointed as India's chief hockey coach in 2011, has to vacate the post prematurely after he failed to improve the team over the last two years. He has three more years left on the current contract that was supposed to end after the 2016 Olympics in Rio de Janeiro.
"We have decided to terminate Mr Nobbs's contract after a one month notice period. There is a clause in his contract for this and after my meeting with Hockey India today, this decision was taken," Jiji Thomson, director general, Sports Authority of India, told Mail Today.
"We have been supporting hockey in a big way and are disappointed the results are not there to see. So we have to move on and hope for the best," he added.
However, Hockey India secretary general, Narinder Batra said that Nobbs decided to quit last week.
Hockey India's High Performance Manager, Roelant Oltmans, will handle the team till a new coach is selected. Former national men's coach Maharaj Krishan Kaushik is also expected to be roped in to help out Oltmans.
The decision of Hockey India to show Nobbs the door came after former chairman of Hockey India's technical committee, Pargat Singh, who played a key role in the appointment of Nobbs, voiced out the need for a leadership change.
"If he is performing he should stay back, but if not the authorities shouldn't hesitate to give him the marching orders. He should be relieved of his duties immediately if he is not performing," Pargat recently told Press Trust of India in an interview.
"He (Nobbs) was appointed for a five-year tenure. He has completed two years of his job but did Hockey India ever assess his performance? Did the federation take any feedback from the players and other coaches on his style of working? What Hockey India needed to do was review his performance yearly. If someone is appointed for a long tenure it doesn't mean he can complete his term without showing any results," he added.
Nobbs, who was expected to resurrect the sagging Indian hockey, started off on a good note but received flak after India's pathetic performance at last year's London Olympics. India were expected to qualify for the World Cup in The Hague by finishing in the top three at FIH World Hockey League last month but ended up in the sixth position.
Nobbs has been sacked ahead of the crucial eight-nation Asia Cup to be played from August 24 to September 1 in Ipoh, Malaysia. India need to win the trophy to qualify for next year's World Cup.