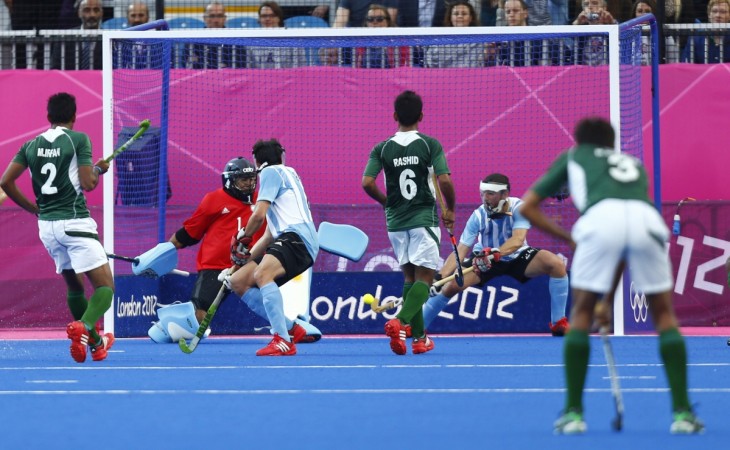 The Hockey India League (HIL) will not witness the wizardry of Pakistan players, unless the Pakistan Hockey Federation apologise for their players untoward behaviour after defeating India 4-3 at the Kalinga Stadium in Bhubaneswar last year during a Champions Trophy encounter.
Their post-match reaction towards the crowd, which included unruly gestures, was nothing short of pathetic.
Though head coach Shahnaz Sheikh apologised for his players' reaction then, the chairman of the HIL and Hockey India president, Narinder Batra, wants the PHF to apologise after which they might allow Pakistan players in the HIL.
"I would love to have Pakistan players but not with the kind of behaviour they displayed in the Champions Trophy. And they have shown no regret of that incident in writing or otherwise. I don't want to politicise the issue but that kind of behaviour was unacceptable. Least we need an apology from them," PTI quoted Batra as saying.
The HIL did include some Pakistani players in the first edition, but they could not participate after protests from political groups.
Even if the PHF apologise, the political tensions between the two countries, which has also kept cricket ties at bay, could pose a major obstacle.
However, the HIL has been a huge success for India in the last few years with a number of players able to play with and against international-calibre players. Such a high-profile competition, which will include top players from all around the world, is going to play a major role in improving the standards of Indian hockey.
India, who were one of the first teams to qualify for the Rio Olympics 2016, have been performing decently of late, and Batra gives the credit to HIL.
"Our aim at HIL is to form a pool of players for the future. We already have eight players from HIL in the national side. HIL has created heroes and a space for itself in the big world of cricket.
"We have won the Asian Games gold after 16 years and were able to get the better of Pakistan in an Asian Games final after 48 years since 1966. So the national sport has certainly improved in the last four or five years and HIL is one of the reasons behind it," said Batra.
With the advent of the HIL, hockey players have also become richer, with teams splurging big money to rope in quality players. Similarly, players will be watching the HIL auction on Thursday with utmost interest, as the six teams will bid for more than 250 players during the auction.