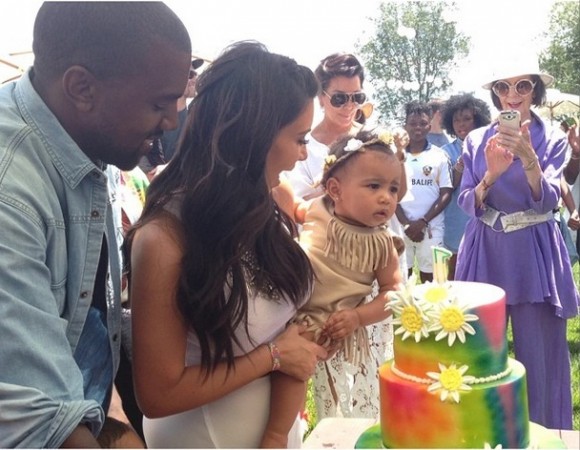 A new tweet doing the rounds is apparently claiming that Kanye West stormed out of his house as he could not bear the incessant crying of his daughter North West and regretted having a baby.
The tweet, apparently from @OfficialTMZNews, says that West stormed out of his $20 million mansion shouting, "I should've never had that kid, I should've pulled out, real talk", claimed a tweet from @OfficialTMZNews.
The Twitter account is a fake one. The story seems to have originated from Huzlers, a satire website, and it claims that West attempted to pacify his crying daughter by playing his Yeezus album, but was unsuccessful.
"Yeah I totally think he was trying to stop baby North from crying by blasting his Yeezus album. like, really? play the baby some lullabies for Christ's sake, or even her Mothers sex-tape," the website quoted witness and paparazzo Kelvin Hernandez as saying to support the fabricated story.
In reality, West appears to be a doting father who has on more than one occasion said North was a blessing. Recently, the father-daughter duo was spotted spending quality time together while wife Kim Kardashian was away celebrating French Montana's birthday.
On Sunday, the rapper arrived in San Francisco with daughter North, and was seen pushing North's stroller and ensuring that she was comfortable.
Related
Kim Kardashian and Kanye West's 'No Spanking' Policy for North West: Couple to Discipline Daughter by Taking Away Favourite Toy
Kim Kardashian Confirms Trying for Second Baby with Kanye West; Is She Trying to Avoid Pregnancy Hype?
Despite his hectic work schedule, West makes sure he spends quality time with his daughter, as he wants North to grow up to be highly successful, and not just in terms of money.
"[Kanye] wants her to live the life and become one of the greats like him, or Emily Dickinson, or [Albert] Einstein, or Chopin, or Rembrandt. This is the life they want her to have and she will,"a HollywoodLife source said.
"[Kanye] reads poems to her and plays all types of music for her including scores from the most renowned composers," the HollywoodLife source explained. "He loves it when she scribbles on the paper in her bedroom or when she speaks her own baby language. He lets her explore life to the fullest because he wants her mind to know no boundaries."