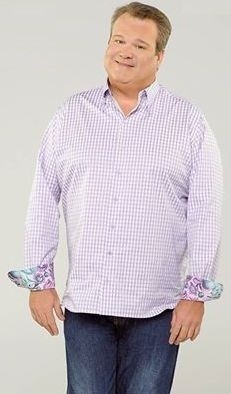 Eric Stonestreet, who portrays Cameron Tucker in "Modern Family" since 2009, has made his Twitter followers panic over the news about the cancellation of the sixth season of the show through his fake tweet with a link to an article appeared on a satirical website Clickhole.com.
The article was published last week with the headline, "Whoa: ABC Just Canceled 'Modern Family' In Order To Teach People That Something You Love Can Be Taken From You With No Warning Whatsoever".
In order to increase the credibility of the report, the website even quoted an ABC executive saying, "It saddens us to cancel a show as beloved as Modern Family, but people need to be taught that having something you cherish suddenly and inexplicably wrenched from your grasp is intrinsic to life".
"Fans of the show are better off learning that sooner rather than later, so they're prepared when it happens over and over again for the rest of their lives. Ultimately, that's what this cancellation is about. Not numbers or logic, but demonstrating the terror of our powerless existence on this earth," the website quoted executive Leon Kisch.
The website also included a quote of Julie Bowen (Claire Dunphy), who said, "We've had a blast making this show for the last six seasons, but I trust the network's decision to cancel it as a way of showing people firsthand just how quickly the things that we love can be erased from existence".
Apart from this, the "Modern Family" cancellation article included weeping images of Stonestreet and Ty Burrell.
However, some of "Modern Family" fans took to Twitter to express their wrath over the news. The furious tweets were ranged from "It's illegal, immoral, inhuman, I CAN'T LIVE!!!" to "Modern family got cancelled I think I'm gonna cry," reported Primetime Unreality TV.
Meanwhile, ABC has announced that it will be airing the repeats of "Modern Family" season 6 every Tuesday at 8.30 pm, according to the website.
As the viewers of "Modern Family" will get to watch more of the sitcom on ABC, the Internet hoax, that has been doing the rounds for quite a while, may not have a negative impact on the ratings.