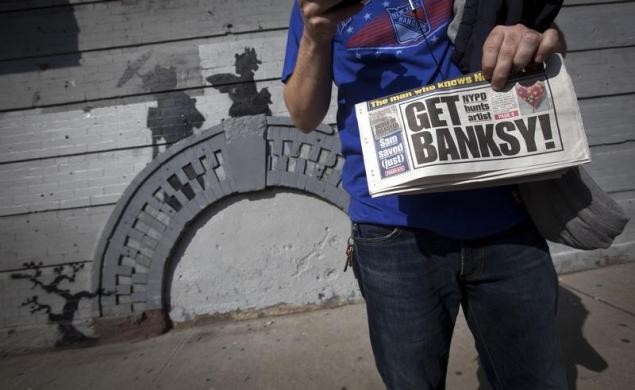 A story claiming that the 'secretive' British street graffiti artist Banksy has been arrested and identified as Paul Horner, is a complete hoax.
The article that appeared in the National Report fooled thousands of Bansky fans, including British Author and former Conservative MP Louise Mensch. Reports suggested that the fake story of Banksy arrest was shared at least over 200,000 thousand times on Facebook and Twitter, before it was found out to be a hoax.
Several people reportedly called up the London police to confirm the arrest after a Scotland Yard spokesperson told The Telegraph: "We are certainly not aware of Banksy being arrested in Watford, or anywhere else for that matter."
The story appeared in the National Report, a news website that publishes "fictitious stories using real identities and sometimes real incidents" should have been enough to ring the alarm bells, still many were duped by the report.
The hoax report stated: "The elusive graffiti artist, political activist, film director, painter and long time fugitive that for years has gone by the pseudonymous name of Banksy, was arrested early this morning by London's Metropolitan Police. After hours of questioning and a raid of his London art studio, his true name and identity have finally been revealed.
"The City of London Police say Banksy's real name is Paul Horner, a 35-year old male born in Liverpool, England," the viral fake news stated.
The fake story even claimed that BBC confirmed the information with Banksy's PR agent Jo Brooks (he doesn't exist).
It also stated that City of London Police Chief Lyndon Edwards held a press conference to answer questions about Banksy's arrest. However, the London Police chief is Brad Duncan and not Lyndon Edwards as mentioned in the ficticious article.
The hoax stated that Police apprehended the famous street artist while in the middle of finishing a piece about a mascot for a Christian organization named Fappy The Anti-Masturbation Dolphin. It even carried a totally made up quote by Fappy The Anti-Masturbation Dolphin as told to CNN.
The story also carried two images - one of the photograph shown in the report shows police escorting an arrested man said to be Banksy, covering his face with a towel and another shows the picture claiming to be of Banksy taken by the police during the raid from his resident.
Both are fake as the one with man with his face covered is a picture of a man arrested in 2011 for rioting during the Notting Hill Carnival, and the other image, which shows a man holding a cigarette wearing a hoodie, is an edited image superimposed on the still from the Oscar Award winning Banksy documentary, "Exit the Gift Shop."
However, this is not the first time Paul Horner has been claimed to be the identity of Banksy. A similar hoax story that appeared in February 2013, also had identified Banksy as Paul William Horner.