Ajith fans have been celebrating for the past few days after reports emerged, stating their favourite actor beat Vijay and Rajinikanth to become the richest and most influential Celebrity in Kollywood. But to their huge disappointment, the news is false.
Some media reports had claimed that Ajith was ahead of Rajinikanth and Vijay. But it is not true.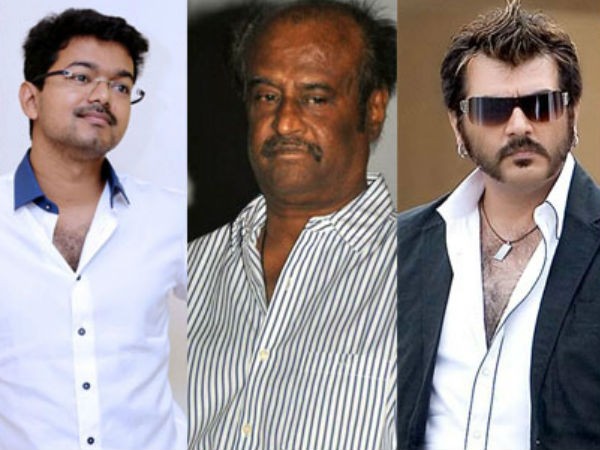 Forbes 100 top Celebrity
In the Forbes Top 100 Celebrity in 2014, Vijay had ranked ahead of Rajinikanth and Ajith. The popularity has been measured on two counts; the first being how influential the celebrity is and the other, how much money that he/she has earned in the year.
Salman Khan is in the numero uno position by earning ₹244.5 crore and he is in top position in both fame and money ranking. Among the celebrities from Kollywood, AR Rahman is in the 13th position by earning ₹50 crore. He is in the 15th place in both popularity count and money.
He is followed by AR Murugadoss, who has earned ₹44.33 crore, is in the 39th position. While he is declared the 17th richest celebrity in India, he is at 97th position in terms of fame.
Vijay is at the 41st position (23rd and 80th ranks respectively) and Rajinikanth is in the 45th position (21st and 89th). While Ilayathalapathy earned ₹33 crore, the superstar made ₹21 crore in 2014.
Ajith Kumar is in the 51st position by making ₹40.33 crore. While he is listed the 19th richest celebrity in the list, his popularity puts him in the 98th position. Rajinikanth's son-in-law Dhanush is in the 78th position (53 and 77 respectively) by making ₹11.67 crore.
Multifaceted Prabhu Deva is in the 88th place (59 and 87 respectively) by earning ₹9.83 crore. Click here to see the complete list