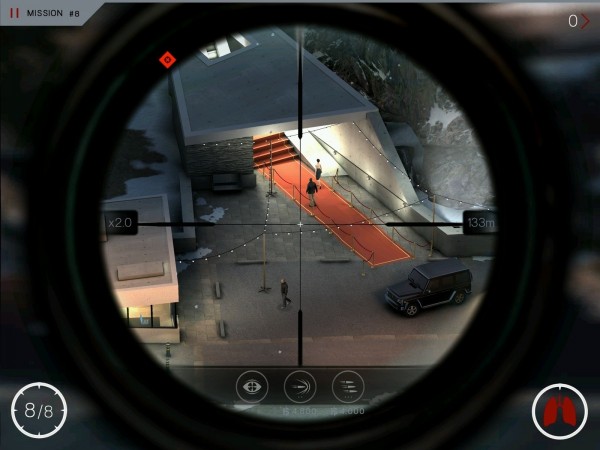 The Hitman series is one of the top names, as far as stealth and tactical shooters go. For many years, we have been treated to Agent 49's exploits. Now, after the successful release of the turn-based Hitman: Go on mobile, we are faced with the new Hitman: Sniper.
From what we have gathered after going through the game for the first couple of hours, Hitman: Sniper looks like a great mobile title, turning a simple sniping premise into quite a complex puzzle game.
The game requires you to strike cohesion between your weapons and your abilities to score the maximum number of points.
Hitman: Sniper seems more traditional and ridiculously clever than the previously-released Hitman: Go, although both require a certain level of thinking and finesse to play.
The new Hitman game is big, complicated and requires even your last bit of intelligence if you want to score points.
As far as the backdrop of the game is concerned, you will step into the boots of Agent 47 who is currently present at a house party, looking to take on a particular target. There are as many as 10 high-level targets (also comprising of guards and occasional civilians) to take care of, with one of them being your primary target.
Move ahead with the game and, as expected, things start becoming complex, although the in-game missions are more than potent in teaching you how to play it. For instance, you will learn how to pull off the domino kill, which is worth a boatload of points.
However, the key to playing the game lies in your ability to learn quickly.
There's a sort of constant-repetition element involved with the game, but that's a blessing in disguise, since it educates you about the in-game dynamics. Plus, there are new missions that keep challenging the player over the skills he or she may have mastered while spending time with it.
If you are looking to know more about the game via its storyline, there is not much on offer.
However, there is indeed a sense of repetition that's attached to the game. Veteran fans, for instance, will look for more variety in the game, although that's not possible from just one scenario.
If you are concerned about the best handsets to install and play the game, know that top-end smartphones and tablets from Apple such as iPhone 6, iPhone 6 Plus, iPhone 5S and iPad Mini 2 will suffice.
For Android owners, we suggest that you install the game in a handset that at least boasts of a Qualcomm processor. We did a comparison of the game running on both MediaTek and Qualcomm processors, and were really impressed by the kind of details from a Qualcomm-backed device.
While we still have some time left before we can write the final verdict for the game, Hitman: Sniper is a game with potential and requires you to make some clever choices when taking down targets. However, that the game offers just one scenario, could put off a lot of hardcore players.
Will you be installing Hitman: Sniper on your mobile handset? Let us know in the comments section below.