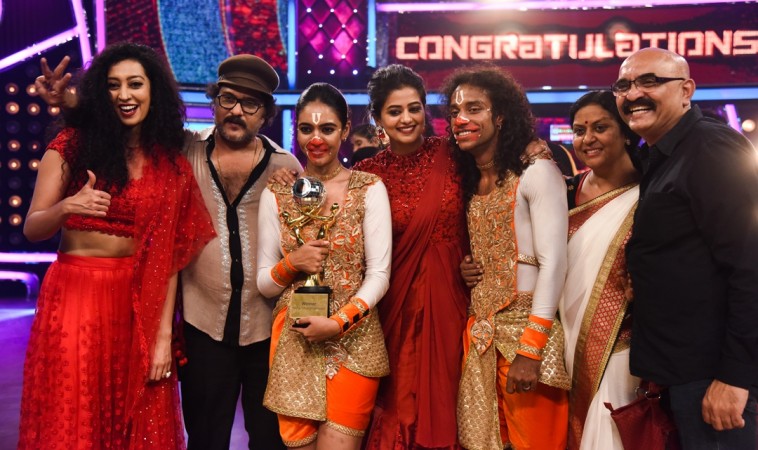 The third season of Dancing Star on Colours Kannada came to a conclusion recently. The show, produced by Pixel Pictures, started with 12 contestants and three wild card entries in August.
Audience's favourite contestant Hitha Chandrasekhar and her choreographer Tharak Xavier won the trophy of Dancing Star 3, gaining immense recognition for their final performance. The winners had impressed the audience with their first performance, combining 10 folk arts into a single performance.
The contestants were given the theme "risk" and "brahmastra," and each couple had to choreograph and perform two dances to win the title. The execution of the dance, which included dollu kunita, yakshagana, kolu kunitha and more, was praised by the judges and the audience alike.
The winners were awarded Rs 10 lakh as cash prize and a Yamaha Fascino.
Dancing Star 3 highlighted a series of firsts in television history and the biggest highlight remains the appearance of Bollywood actress Juhi Chawla, who shot to fame with Kannada movie Prema Loka with Ravichandran, as a special judge for the launch Event of Dancing Star 3.
"We have seen each contestant grow in this season of Dancing Star 3. When we assign a particular choreographer to a contestant, we try to match the best possible person to bring out the talent in the contestant. It has been a great journey seeing all the contestants gain more confidence and improve on their skills under the tutelage of their choreographers. Hitha and Tharak's performances have proved to be one of those beautiful combinations that have brought a lot of joy to the audience and the judges," Prashanti Malisetti, CEO of Pixel Pictures and producer of Dancing Star 3, said.
Pixel has invested over 5,000 hours into the production of Dancing Star 3 in the last three months. The production house, which is responsible for auditions of contestants, coordinating with the judges, enlisting choreographers, planning the show with themes, as well as filming the show and executing other details, is pleased with the successful conclusion of the season.