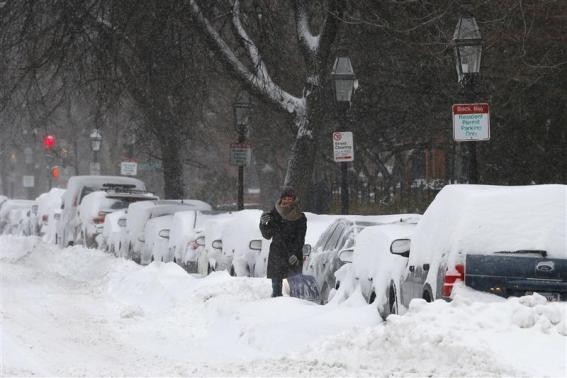 The deep freeze that is going to engulf much of the US states starting Sunday is likely to be historic and record setting.
If you live in Midwest, New England and even the South, be prepared to wake up on Sunday morning to a temperature you might have never experienced in your whole life.
The frigid air that has now heightened fears of frostbite and hypothermia, will sweep across the states on Sunday and will extend into the week after, various meteorological sources have said.
Residents will experience some of the coldest weather to grip the region in almost two decades, while blizzard conditions are still expected in the Great Lakes region and Central Plains, forecasters said.
"The last really big Arctic outbreak was 1994," Bob Oravec, a forecaster with the National Weather Service told Reuters. "Outbreaks like this don't occur every day."
The push of Arctic air will bring along a blast of cold temperatures from Montana to Michigan. It will then move towards the Northeast, where it will arrive by early Tuesday.
Temperature in Pittsburgh is expected to be minus 20 Fahrenheit (24 degree Celsius below zero) while Chicago will shiver in 11 degrees below zero (minus 29 Celsius).
In parts of the north central US, temperatures were forecast to fall 30 degrees below on early Sunday morning. Wind chills in Grand Forks, North Dakota were expected to exceed 50 below.
Forecasters have warned that at those temperatures, exposed skin can easily get frostbitten within matters of minutes and hyperthermia can quickly set in.
A total of 1,266 flights were cancelled across the United States and a further 6,036 flights delayed on Saturday, as the country dug up piles of record setting snow accumulation at the wake of a deadly snow storm. Chicago's O'Hare International Airport and Newark Liberty International Airport in New Jersey were among the most affected according to FlightAware.com.
The record-setting cold that will set in at the wake of the first major snow storm of the year will leave many schools affected in the United States. All public schools in Minnesota will remained closed while officials have advised parents of Chicago school children to "use their own discretion in deciding whether to sent their child to school". Schools will remain closed in Nashville, Tennessee till Wednesday, local officials said.
Officials in Kentucky, which will wake up to 20 cm of snow and freezing temperatures, have been warning residents to avoid outdoor activities.
With inputs from Reuters