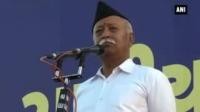 For Mazharul Haque – the new entrant to the Rashtriya Swayamsevak Sangh (RSS) – Hindutva is "synonymous with Indianness" and "all Indians are Hindus."
Also, there is no conflict between the ideologies of Islam and the RSS, an organisation that this Modi admirer feels is open to followers of all religions.
A resident of Asansol in Burdwan district of West Bengal, 32-year-old Haque is one of the 15 individuals who applied online for the organisation's membership about six months ago.
He, along with the rest, were "initiated" into the RSS at a camp in Uluberia in Howrah last Sunday.
"Hindutva has got nothing to do with Hinduism. It is synonymous to Indianness. All Indians are Hindus in the sense that they are inhabitants of India. There should not be any controversy regarding this,'' The Indian Express quoted Haque as saying.
Haque was inspired by Narendra Modi's victory in the Lok Sabha elections held last year.
Though he wanted to join the BJP initially, he looked at the RSS website by chance and followed it up with books, to realise that the ideology of the RSS was not in conflict with his religion and that the RSS was open to people of all faith. This led him to decide to join the organisation.
The organisation's discipline is also a factor that influenced his decision to become a swayamsevak. "An important reason why I joined the Sangh is their discipline and strict punctuality,'' said Haque.
He is also impressed with Modi's plans for India. "I believed Prime Minister Narendra Modi would bring India to the path of development with the help of science and technology. He is a politician with a vision," said Haque.
Since 2014, more than 10, 000 swayamsevaks have been inducted into the organisation, according to RSS spokesperson Jishnu Basu.