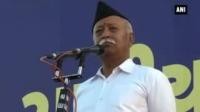 Rashtriya Swayamsevak Sangh chief Mohan Bhagwat called out to the people belonging to the Hindu community to stand united by keeping aside various individual differences in order to make the country strong.
"Bharat will become strong (samarth) only when Hindus stand for the country by keeping aside all their differences for the sake of the nation," Bhagwat was quoted as saying in the 'Narmada Hindu Sangam' at Maheshwar town situated on the banks of river Narmada in Khargone, Madhya Pradesh.
In his address Bhagwat said how India was in the past considered as the world guru and through the depiction of unity by the Indians, the country could again become the world guru in future.
He compared India with countries like the USA and China, which are considered as the world's two major powers and said that India is the only country in the world, which has been blessed with everything.
He added that since ages Hindus have always served the society with the prime objective of doing good to others despite differences in language and way of living.
As per PTI reports, the Narmada Hindu Sangam was organised with the objective of strengthening the Hindu community. The event witnessed the participation of a large number of RSS workers and local residents of the area.