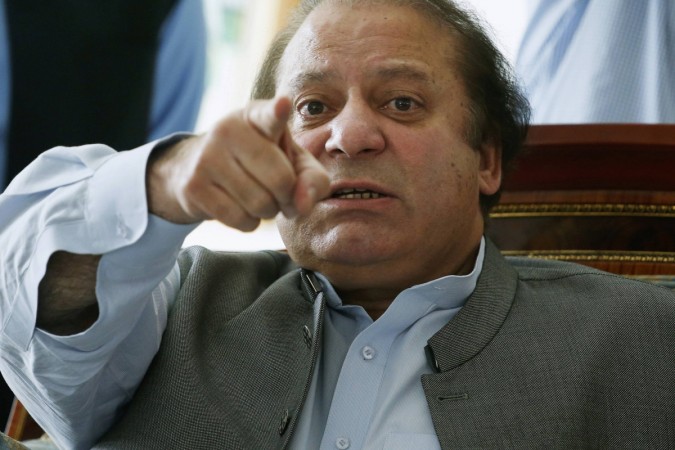 Pakistan Prime Minister Nawaz Sharif has braved a torrent of opposition from his own country to accept the invitation extended by BJP leader and India's PM-designate Narendra Modi to attend his swearing-in ceremony in New Delhi on Monday.
The Pakistan PM will travel to New Delhi on a two-day visit, during which he will attend the oath-taking ceremony of Modi. It is widely expected that the visit will help the two countries resume peace talks, which came to a standstill following skirmishes along the Line of Control.
Even as many in Pakistan welcomed Sharif's decision to attend the swearing-in, the hardline Islamic groups have been resentful of the move. A report by Daily Mail quoted several Pakistani leaders warning Sharif against visiting India.
The most prominent of the comments has come from the socially conservative, Islamist political party Jamaat-e-Islami's secretary general Liaqat Baloch, whose words were barbed with hatred against India. Baloch reportedly told a gathering of hardliners in Pakistan "these Hindus are not anyone's friends", condemning Sharif's move as a misstep.
Several Pakistani television channels also aired comments from Lashkar-e-Tayyeba founder and Jamaat-ud-Dawah chief Hafiz Mohammad Saeed. The 2008 Mumbai attacks' mastermind told ZemTV that Sharif should think of the Kashmiris, who boycotted the Indian elections, before accepting the invitiation from Modi. Saeed later asked Sharif not to appease India and urged him to think of the aspirations of Pakistan.
To the same channel, Pakistan Awami Muslim League (AML) leader Sheikh Rasheed Ahmad, criticizing Sharif, stated that it was wrong on the part of the PM to improve ties with India, at the expense of ignoring the army's views on the matter.
"By accepting the offer, it seems as if India is the leader of this region. By inviting the SAARC countries, they are made to look like the leaders of this region, while Pakistan has accepted their hegemony," Ahmad told the local channel.
It is widely speculated that Prime Minister Sharif's decision has also ruffled some feathers in the top ranks of the Army, especially Army chief general Raheel Sharif, who hit the airwaves in India recently following his remark that Kashmir is the 'jugular vein' of Pakistan.
Modi had extended the invitation to Sharif on 21 May. It is reported that Pakistan PM went through several rounds of talks with his diplomats, before accepting the invite. After attending the swearing-in ceremony on 26 May, both leaders are expected to discuss bilateral issues the next day.
Modi has invited all leaders of the member states of SAARC to the ceremony. Sri Lankan President Mahinda Rajapaksa, Afghanistan President Hamid Karzai, Bhutan Prime Minister Tshering Tobgay, Nepal Prime Minister Sushil Koirala and Maldivian President Abdulla Yameen Abdul Gayoom will also attend the event.