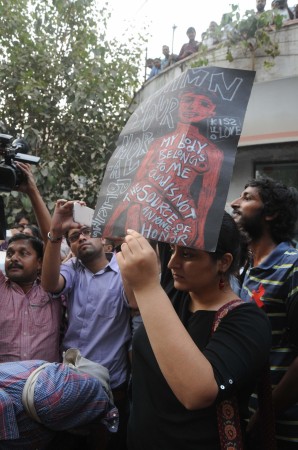 The "Kiss of Love" protesters alleged that Hindu Sena threatened to rape them and their family through phone calls and comments on social media owing to their campaigns to protest moral policing by the right-wing political parties and religious organisations.
"They would bring up their mothers and sisters and in the next minute threaten to f**k me, my family. I'm scared, of course, but there are a lot of people with me and they always will be," The Times of India quoted Pankhuri Zaheer, a protester, as saying.
On Saturday, hundreds of students from JNU and other educational institutions gathered to protest against the moral policing by the right-wing political parties and national organisations that stands against the display of affection at public places.
"The protest was an assertion that the freedom to love is a fundamental human entitlement. Every person has an inalienable right of control over one's own body. Forces of reaction of all hues - from the Sangh (Rashtriya Swayamsevak Sangh) to the Khap Panchayats - are irreconcilably hostile to this basic aspect of human dignity," The TOI cited the reason for the protest.
"It is this which constitutes love as a fundamentally political act, an act which subverts a range of oppressive and tyrannical social structures. The Kiss of Love was an emphatic demonstration of this politics of subversion," the report said.
The "Kiss of Love" campaign took off at Delhi's Jhandewalan Metro station from where they marched up till the RSS office to stage the protest. However, the police stopped them from moving ahead of the station and contained the protests mid-way.
"We've come because moral policing is totally unacceptable. We've come here to claim space for affection," Ambedkar University student Akansha Tyagi said.
However, the Hindu Sena members consider expressing affection at public places similar to "walking around naked" and called kissing in public "un-Indian."
"This isn't progress. What should be promoted is Indian culture. Kama Sutra isn't what they think. We'll have Kama Sutra Day instead of Valentine's Day," Sena member Vishnu Gupta said.
After not so successful campaign at the Jhandewalan Metro, the JNU students have called for another "Kiss of Love" protest on the campus at Ganga Dhaba on Sunday at 4:30pm.