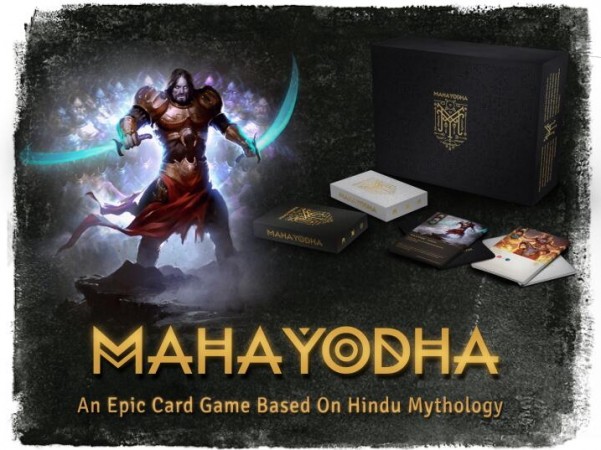 A recently-launched strategy card game, titled Maha Yodha, has attracted many gamers and boasts of being based on a unique subject matter - Hindu Mythology.
Maha Yodha is a two-player strategy card game that invites the players to fight against their opponent using mystical characters and weapons from the ancient Hindu Mythology.
The game will let players fight as two factions - Aditya faction and Asura faction and every faction in the game will have its own army of warriors, gods, demons, weapons and scrolls. It will come with a two-deck set of 42 cards each in the box, comprising of seven warriors, seven weapons and 28 scroll cards in each factions.
Players will also be introduced to Indian Mythology as they play and unlock the fantastical yet fierce looking warriors and the stories from the ancient lore. Every warrior in the game will have his favorite weapon and when this is paired, players will get bonus powers. The scrolls will provide players with some of the powerful bonus skills, valor and force in the battle against their opponent.
The game was recently backed by 862 people and exceeded its goal of $16,000 in a fund rising at Kickstarter. The Kickstarter platform has provided the developer to get 900 orders for the game.
The game has been created by small group Indian developers with Chandan Mohanty involved in the game design and Sager Sharkar as co-creator.
The imagery used on the cards is an art form called Pattachitra, which has been modified to give it a modern look. Pattachitra is a traditional scroll painting based in Odisha, an eastern state in India.
"While designing the game our main intent was to have a simple and fun game that also informs and piques your imagination", said Sagar, IANS reported.
As of now, the game is available in two editions, Deluxe Edition for $40 and Limited Edition for $100.
"The game required a lot of advanced strategy that I found challenging at times, despite my experience. The format is different from any card game I've seen before, and the theme is both intriguing and beautiful," said Kae Hutchens of Initiative Tabletop.