The controversy over the usage of Hindi language on the signboards of the newly inaugurated metro stations took a bizarre turn on Sunday when Bangalore Metro Rail Corporation Ltd (BMRCL) covered it up at two metro rail junctions—Chickpete metro station and Kempegowda interchange at Majestic.
Last week, the Karnataka Rakshana Vedike (KRV) had staged a protest and demanded the BMRCL that it should end the practice of Hindi signboards in metro stations as well as announcements. They also added that Hindi was not being used in metro trains in neighbouring states of Kerala and Maharashtra.
The metro rail authorities took this step after the Upparpet police received information from sources that pro-Kannada organisations were planning to enter the Kempegowda and Chickpete stations and blacken all the signboards bearing information in Hindi.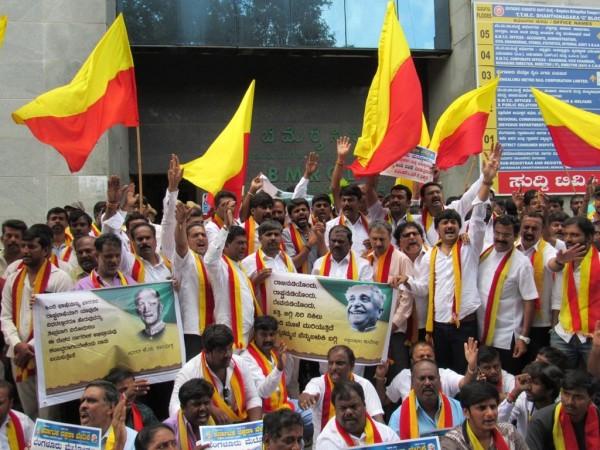 "In order to prevent any untoward incident, the police reportedly advised Bangalore Metro Rail Corporation (BMRCL) officials to do away with Hindi signboards," sources were quoted as saying by The Hindu.
Pro-Kannada activists protest against use of Hindi language on signboards in Bengaluru Metro
Security personnel from the both the police department and Karnataka Industrial Security Force were deployed at the stations. "We were requested to provide security by the BMRCL and we have deployed our policemen besides the KISF personnel," a senior police official said.
The protest that started last week on social media under the hashtag '#NammaMetroHindiBeda' had already gathered 10 lakh responses gaining further momentum on Sunday. In fact, the Karnataka's neighbouring state Maharashtra took it up as well and started the #AapaliMetroHindiNako campaign.
Indian states are formed on the basis of language predominantly! Marathi is the language of Maharashtra!So No Hindi Plz #AapliMetroHindiNako

— Nithin RS (@Nithinpoet) July 2, 2017
We all pay taxes then why invest only on one language stop being partial we live in the nation where equality matters #AapliMetroHindiNako

— shail malwadkar (@anchoringshail) July 3, 2017
Last week, chairperson of the Kannada Development Authority (KDA), S G Siddaramaiah, had written to the BMRCL managing director asking him to explain as to why the signboards bear information in Hindi language.
"I have written to the MD of BMRCL asking him under what rules Hindi has been added on the signboards," Siddaramaiah was quoted by the Hindustan Times.
"It is only central government entities that are required to follow the three-language formula whereas all other establishments should have Kannada and another language, with Kannada in a larger font," he added.
According to Siddaramaiah, Hindi is the official language and if Hindi is used on signboards in Kartnataka, they must include Kannada and other languages on signboards in places where Hindi is the predominant language.