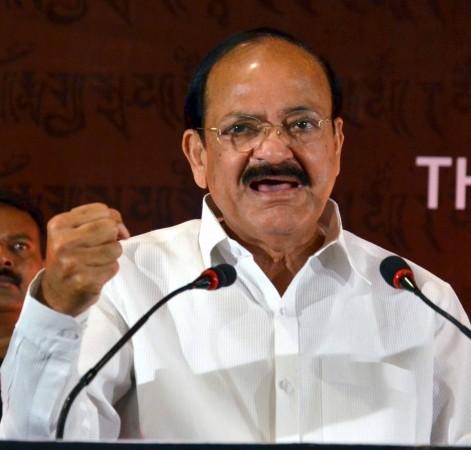 Union minister M Venkaiah Naidu said on Saturday that Hindi was the 'national language' of India and that it was impossible to progress in the country without learning to speak in Hindi. The statement came after Naidu presented 100 volumes of the collected works of Mahatma Gandhi to Sabarmati Ashram in Ahmedabad in Gujarat.
"Hindi is our national language and it is impossible for India to progress without Hindi. It is unfortunate that everyone is after the English language. I am against Britishers but not their language. We should learn all languages, but by learning English our mindset is also changing. This is wrong and against the interest of the nation," Naidu said.
Interestingly, Hindi is not the national language of India. In the Constitution, it has been declared as one of the 22 official languages of the country and of the central government besides English and other regional languages. States are free to adopt one or more official languages for all or any of the official purposes of the state.
While addressing the media, Naidu also emphasised that it was important and necessary for people to learn to speak in their mother tongue. He added that it was important to learn to speak in Hindi, but every individual must first learn to speak in his/her mother tongue.
"Our mother tongue is our identity. We should be proud of it. Since majority of the population speaks Hindi, it is necessity to learn Hindi, but before that we need to learn our mother language," Naidu said adding that the craze to learn English "because it guarantees employment" has overshadowed India's cultural heritage.
"It is unfortunate that everyone is bent upon learning English because it guarantees employment. Hence I want the nation to discuss, promote and learn our mother languages more and at the same time learn Hindi as well," Naidu said.
Naidu had earlier supported the Parliamentary Committee's move to a proposal to make the use of Hindi language compulsory for MPs and Union ministers capable of reading and writing the language. The I&B minister had said that the central government was "promoting" and not "imposing" Hindi on anyone.
Naidu's statement comes amid protests by people from different states, especially the southern states of India, over what they call the 'imposition' of the Hindi language in non-Hindi speaking states.