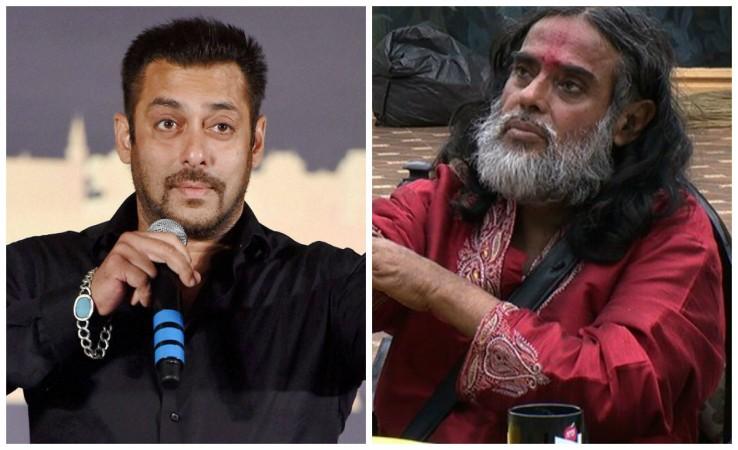 Former Bigg Boss contestant Swami Om is known for his crazy acts and statements. Now, the controversial self-proclaimed godman has said that Hina Khan is Salman Khan's girlfriend. If that's not enough, he even claimed to have beaten the superstar "black and blue".
In an interview with India Today, Swami Om said that Salman wanted to make "his girlfriend Hina Khan" win Bigg Boss 11, but he instructed Colors TV CEO Raj Nayak to make Shilpa Shinde the winner. He added that Arshi Khan was too Salman's girlfriend, and he was biased towards them.
Making it sound weirder, the self-styled godman said that he got to know about "Hina and Salman's affair" through "tantra vidya". He also claimed Salman's mother to be his "jasoos".
Swami Om further said that he once thrashed Salman, following which the latter had sought his apology. "On December 30, 2016, when I thrashed Salman Khan black and blue. On that day I had told him that in this case (Black Buck poaching case) I will send you to jail. He had challenged that no one can put him behind the bars but I challenged him. When he went inside the jail, he had all the facilities there. He called me and apologized to me. Then I got a call from his mother and Preity Zinta. We got him out by bribing the judges. Judges are sold - from Supreme court to lower courts. If any judge has courage then they can file a complaint against me," Swami Om told the publication.
This isn't the first time that Swami Om has come up with such scandalizing comments on Salman. There is a reason behind his hatred toward Salman, and that's because he was kicked out of Bigg Boss house by the superstar for his dirty deeds and words inside the show.