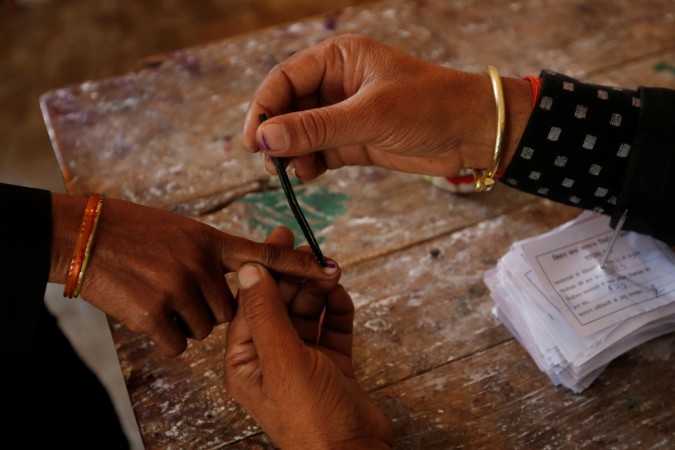 Polling began in Himachal Pradesh for its assembly elections on Thursday morning, with Chief Minister Virbhadra Singh of the Congress party contesting against Bharatiya Janata Party's (BJP) Prem Kumar Dhumal.
People are currently voting in the hill state's 68 assembly constituencies. The results of the polls will be announced nearly 40 days later on December 18, along with the Gujarat assembly elections results.
While Congress is in power in the state currently, BJP hopes that the state will continue its trend for not voting the same party to power. Singh and Dhumal have alternatively been Chief Ministers of Himachal Pradesh in the past 24 years.
Here are the live updates of the polls:
14:20 PM IST: 54.9% voting till 2 pm in Himachal Pradesh; BJP eyeing 60 of 68 seats.
13:10 PM IST: Right before his wedding, a bridegroom casts his vote at a polling booth in Manali's Baashing villag.
12:10 PM IST: At least 28.6% polling recorded till 12 noon in elections.
11:00 AM IST: 13.72% polling recorded in first two hours of Himachal Pradesh elections.
10:30 AM IST: Virbhadra Singh and his son Vikramaditya cast their votes at a polling booth in Shimla. Virbhadra Singh says the Congress party will be victorious with full majority.
10:15 AM IST: BJP's chief ministerial candidate Prem Kumar Dhumal and BJP MP from Hamirpur Anurag Thakur cast their votes.
9:40 AM IST: Chief Minister Virbhadra Singh says "confident of getting majority in the election, the next Government too will be of Congress."
9:10 AM IST: BJP CM candidate Prem Kumar Dhumal says: "We aimed to get 50 plus seats but now that we are receiving so much support from all sections of the society, we expect it to cross 60," according to ANI reports.
9:00 AM IST: Voting at polling station number 55 in Kinnaur, Reckong Peo has not yet started due to a technical glitch; the polling booth is all women-managed.
8:40 AM IST: People cast their votes at a polling booth in Shimla's Rampur.
8:20 AM IST: Elderly woman, Barfi Devi, casts her vote at polling booth number 7 in Samirpur, Himachal Pradesh.
8:10 AM IST: Voters queue up to cast their votes at a polling booth in Dharamshala.
7:55 AM IST: Nearly 11,500 police jawans, 6400 Home guards, 65 companies of paramilitary forces deployed across the state for the assembly election.
7:30 AM IST: Visuals from a polling station in Mandi, voting to begin at 8 AM in all the 68 constituencies HimachalPradesh
A total of 62 sitting MLAs are seeking re-election today, including Singh and about 10 of his ministers and also BJP's Dhumal.
A party requires at least 35 seats to form a government in Himachal Pradesh. Congress had won a total of 36 seats in the 2012 elections, and the party currently holds 35. While BJP had won 26 seats and now has 28 MLAs.
Nearly 7,525 polling booths have been set up in the state and 37,605 polling personnel have been deputed on election duty. A total of 50,25,941 voters are expected to vote today.
Chief Electoral Officer Pushpender Rajput said that 17,850 personnel of the police and home guards and 65 companies of central paramilitary forces have been deployed for maintaining security and stability during the polling hours.