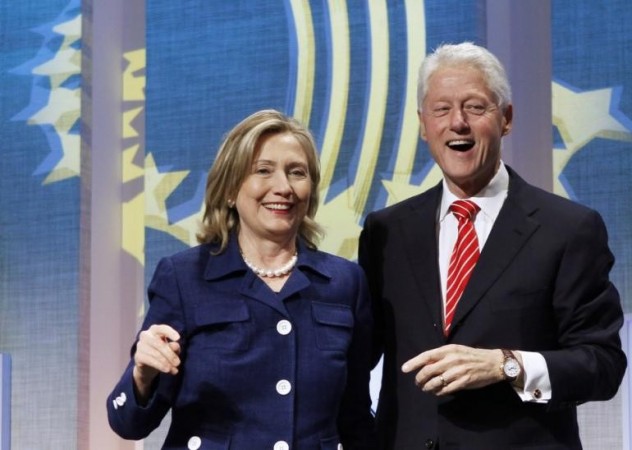 Bill Clinton's affair with Monica Lewinsky has returned to haunt Hillary Clinton after a decade and a half, as she mulls over a presidential run in 2016. Her rival politicians have taken a dig at her husband's conduct while he was in office as the 42nd President of the United States.
Senator Rand Paul of Kentucky, potential Republican presidential candidate for the 2016 elections, has recalled Clinton's affair with Lewinsky a couple of times in the last few weeks.
"If (Democrats) want to take a position on women's rights, by all means do. But you can't do it and take it from a guy who was using his position of authority to take advantage of young women in the workplace," Paul recently said on C-SPAN's "Newsmakers".
Though rival politicians are trying to score some points by bringing back the issue that happened in 1998, Hillary's own views on the scandal has turned into a topic of discussion, after The Washington Free Beacon published the notes of her close friend and University of Arkansas political science professor Diane Blair, who died in 2000.
The archive written by Blair indicates that Hillary supported her husband through the scandal and called Lewinsky a 'narcissistic loony toon'.
"[Hillary] is not trying to excuse [Bill Clinton]; it was a huge personal lapse. And she is not taking responsibility for it," Blair wrote. "But, she does say this to put his actions in context. Ever since he took office they've been going through personal tragedy ([the death of former White House deputy counsel] Vince [Foster], her dad, his mom) and immediately all the ugly forces started making up hateful things about them, pounding on them."
"It was a lapse, but she says to his credit he tried to break it off, tried to pull away, tried to manage someone who was clearly a 'narcissistic loony toon'; but it was beyond control."
"HRC insists, no matter what people say, it was gross inappropriate behavior but it was consensual (was not a power relationship) and was not sex within any real meaning (standup, liedown, oral, etc.) of the term," she added.
It may be recalled that Clinton's affair with the former White House intern hit the headlines in 1998, almost costing his marriage to Hillary and his office as the 42nd President. He underwent impeachment for the scandal but escaped the threat after the senate voted in favor of him.