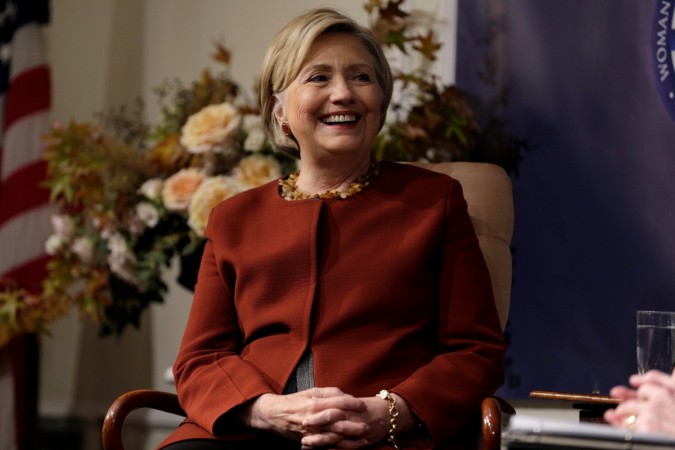 Former US Secretary of State Hillary Clinton is in her final stages of the three-day private trip to Madhya Pradesh, India. However, apart from being mesmerized by India's history, the former presidential candidate's trip also included taking a jibe at US President Donald Trump during a speech in Mumbai.
The trip included a discussion at the nation's financial capital, Mumbai, a boat ride on Narmada river, and a rendezvous with her maharaja friend Richard Holkar, a prince from the Holkar royal family.
On her visit to Mumbai, she took the time to speak about US President Trump and claimed that his voters 'do not like black people' and that their 'wives were told not to vote for her' during the elections.
"I won the places that represent two-thirds of America's gross domestic product. So I won the places that are optimistic, diverse, dynamic, moving forward. And his whole campaign, 'Make America Great Again,' was looking backward," Hillary told CNN.
When she was asked if Trump deserved to be the President of United States, she said, "No, we did not deserve that." She even said the US presidential race was the "first reality TV campaign" and Trump is a 'reality TV candidate."
"You know, you didn't like black people getting rights, you don't like women, you know, getting jobs, you don't want to, you know, see that Indian-American succeeding more than you are, whatever your problem is, I'm going to solve it," she added during the hour-long speech.
Donald Trump Jr. retaliated to Hillary's dig at his father, as he tweeted "The "most qualified candidate ever" folks. What a joke."
She was not accompanied by former US President and husband Bill Clinton but was on the trip with her Indian-origin political staffer Huma Abedin and other friends. As it was clearly a private trip for Clinton and her friends, she enjoyed her time as a tourist as she wore a casual Indian attire and visited the ancient palaces of Mandu in Madhya Pradesh's Dhar district.
Not only was Hillary wowed by the sheer magnificence of Indian culture and architecture, she was also in awe of the local weavers weaving the famous Maheshwari sarees in Madhya Pradesh. Furthermore, she even managed to experience a boat ride at the Narmada river during her short trip to India.