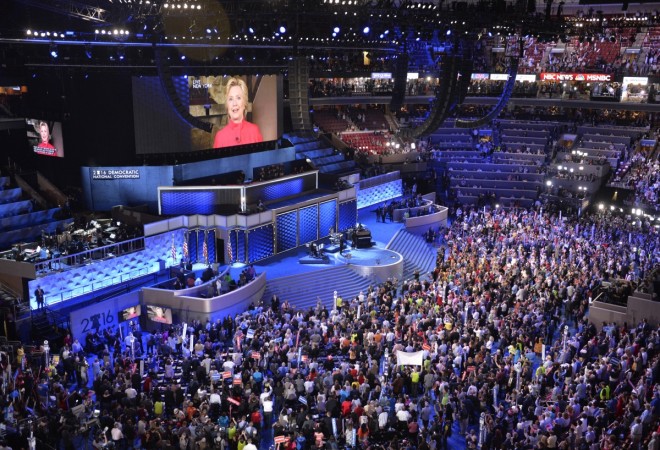 The Democratic Party on Tuesday created history by nominating Hillary Clinton as the first woman candidate to run for president in the U.S. elections in November, where she will take on Republican Party candidate, Donald Trump.
Clinton, who was announced the Democrat nominee at a convention in Philadelphia, will formally accept the nomination on Thursday. The former first lady made her presence felt by appearing at the convention via satellite link to thank the Democrats for confirming her nomination as the party's presidential candidate.
"What an incredible honour that you have given me and I can't believe we just put the biggest crack in that glass ceiling yet... This is really your victory. This is really your night. And if there are any little girls out there who stayed up late to watch, let me just say I may become the first woman president but one of you is next," Clinton said.
Bill Clinton, her husband and former president, spoke moments before about how Hillary dedicated her entire life to improve people's lives.
"This woman has never been satisfied with the status quo on anything. She has always wanted to move the ball forward — that is who she is... She's a change-maker. That's what she does," Bill Clinton said, adding that Hillary was "the best darn change-maker I have ever known."
Bill also said in his speech that his wife has been a social justice activist since their early days as law students. She also provided legal aid services to the poor and went undercover in the 1970s to expose a segregationist school in Alabama. She cared so much about the issues faced by children "that she actually took an extra year in law school working at the child studies centre to learn what more could be done to improve the lives and futures of poor children."
He added that she also supported President Barack Obama when he decided to go after Osama Bin Laden. "She launched a team to fight back against terrorists online and built a new global counter-terrorism effort. She put climate change at the centre of our foreign policy," Bill said.
The former president also spoke about his own relationship with Hillary.
"In the spring of 1971, I met a girl. The first time I saw her, we were... in a class on political and civil rights... I asked her to take a walk down to the art museum. We have been walking, and talking, and laughing together ever since," Bill said, adding that he married his "best friend".
The former president also attacked the Republicans for calling Hillary a "cartoon".
"How does this square with the things that you heard at the Republican convention? What is the difference in what I told you and what they said? How do you square it? You can't. One is real, the other is made up. And you just have to decide which is which, my fellow Americans."
The former first lady has promised to tackle income inequality, tighten gun control and rein in Wall Street if she becomes president, Reuters reported.