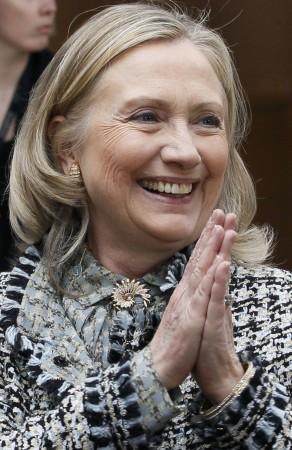 US Secretary of State Hillary Clinton arrived in Kolkata from Dhaka on Sunday as part of her tour of South Asian countries. Clinton will be meeting West Bengal Chief Minister Mamata Banerjee on Monday.
After the meeting with Mamata, Clinton will head for New Delhi, where she is scheduled to meet External Affairs Minister S M Krishna. Her trip comes ahead of the India-US strategic dialogue to be held in Washington on June 13.
The visit is touted as a move to revive the strategic relationship with India, which has been seemingly deteriorating over policy issues.
The US has been urging India to cut oil imports from Iran because of its nuclear programme. India refused to reduce imports, saying it has been a long and trusted relationship.
Also on Clinton's agenda for her meeting with Mamata is reportedly the issue of foreign direct investment in India's retail trade. Although the UPA dispensation in New Delhi was backing FDI, the proposal fell through because of Mamata's stiff opposition.
Mamata Banerjee was the first political leader to oppose the proposed FDI bill, in spite of being a key ally of UPA collation.
According to reports Clinton was looking forward to meeting one of the influential chief ministers of India, Mamata, and discuss issues like regional ties and trade.
Clinton will also meet Prime Minister Manmohan Singh in New Delhi and discuss bilateral ties. Here discussions with Krishna on Tuesday are expected to focus on civil nuclear cooperation, regional security and Iran, according to TV reports.
CNN-IBN reported that Clinton had earlier visited Kolkata as the US first lady to attend the funeral of Mother Teresa in September 1997.