Tired of the mundane, monotonous routine of everyday life? Are you looking for more excitement than your average sports and outdoor activities; something to spike to adrenaline?
Adventure does not suffice with trail hiking, skiing at a resort or rafting on violent waters for some daredevils. They go out of their way to find fear-inducing, heart-pounding, extreme adventure activities. If you are among those daring thrill-hunters, read along to find where you can take part in some of those hair-raising activities.
Solo climbing
If you love mountain climbing but want to experience its dangers and risk in the rawest form, free solo climbing is the activity for you. While most free-climbers use safety ropes as a precaution, a few intrepids like to flaunt the law of gravity as they climb rocks and mountains using only their hands and feet, without the aid of harness, ropes, pulleys or other protective gear. Although a fall from 20-30 feet above ground can potentially kill a climber, most clamber hundreds and thousands of feet without batting an eyelid.
Heli-skiing
Extreme skiers would rather take a helicopter that fights turbulence to get to the access point, where they strap on their skies and cruise down a rocky, craggy mountain while trying to avoid being caught in an avalanche, than book a resort and ski down relatively smoother slopes. While the terrains for heli-skiing range from wooded areas to steep, jagged chutes, making its extremely dangerous, places like British Columbia in Canada, New Zealand and Indian Himalayas are humming with takers for this extreme sport.
Descend an active volcano
As a general rule, regular human beings tend to stay away from lava; unless of course, you, like adventure explorer Geoff Mackley, are foolhardy enough to feel most alive in the face of death. In 2012, Mackley and his team descended 640 feet into Vanuatu's Marun Volcano, to witness the explosive bowels of earth first hand. You are more than likely to face inhospitable challenges such as toxic gas, unbearable heat, tumbling rocks and unwarranted explosions. Clearly, volcanoes are unpredictable, but that only serves to seduce the insanely adventurous souls.
Swim with the great white sharks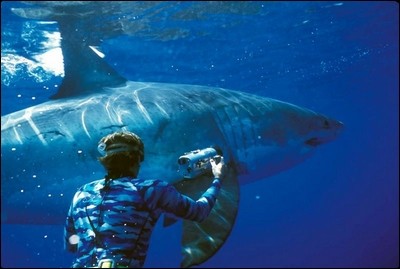 There is no better validity for your bravery than taking a dip in the ocean with the great white sharks so close, you can feel the swish of their fins. Although humans aren't their natural prey, contemplate the damage these 20-feet, 4,000 pound predators can do with a single bite as you swim around with them in the coastal areas of the Americas, Australia and South Africa. It takes ample amount of patience, vigilance, the humility to retreat quickly and above all, guts to swim with the great whites.