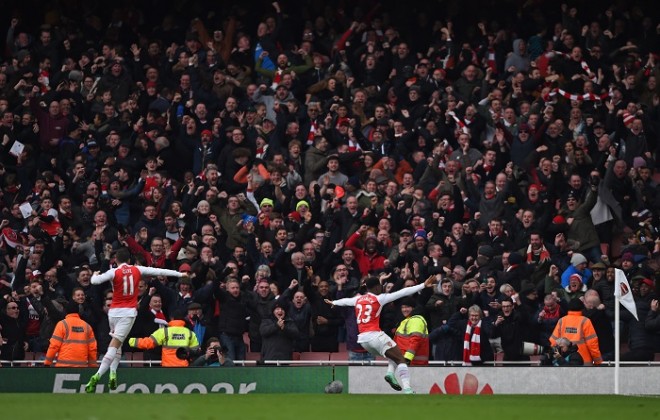 Being a football fan is like that crazy-over-the-top rollercoaster ride that goes up and then down and then up and down again, before ending up somewhere, leaving you wondering what the wonderful-word just happened.
Being an Arsenal fan is like that rollercoaster ride x25, with the highs, lows, disappointments, happiness, did-you-see-that-moments, Arsene-c'mon-Arsene-make-that-substitution-for-everything-that-is-good-in-this-world-make-that-change, all magnified into one giant emotional tornado that just sweeps you away without any warning.
Arsenal vs Leicester City at the Emirates on Sunday encapsulated that being-an-Arsenal (you can also insert your team here)-fan feeling perfectly.
There was the high that you get from the anticipation, of waiting for the match that you have been waiting for all week to begin; then another high as Arsenal make a strong start, followed by a quick low as the home team fails to convert the strong early start into goals, leading to a few groans around the stadium.
Then there is the prolonged low as you, as a football fan alone, perceive every decision given against you as proof of the referee's bias – "yup, the ref has bought into that whole Leicester City winning the title fairytale, and he is giving every (insert nice word here) decision their way."
That prolonged low of everything going against you will then turn into the biggest of possible lows as a huge decision goes against your team (in this case, it was a couple of decisions as the referee Martin Atkinson turned a blind eye to an obvious foul, before giving an iffy penalty).
How Atkinson did not see the big Wes Morgan climbing on Mesut Ozil like he was a ladder to the treehouse is something only the referee himself can answer. But that obvious foul, which would have given Arsenal a freekick in a dangerous position was ignored, and within seconds the ball was at the other end, courtesy some outstanding play from that ridiculously-good midfielder Ngolo Kante.
Jamie Vardy running at you is never a nice prospect, but that is what Nacho Monreal had to face. The Arsenal defender stuck a leg out, made absolutely no contact, but Vardy, being the smart striker that he is, made sure he would fall into that leg and buy a penalty. Atkinson fell for it hook, line and sinker and it is debatable whether it was good centre-forward play or just conning the referee into giving a spotkick, that from his angle would have probably looked certain.
From an Arsenal fan's point of view, of course, it was a blatant dive. And on Sunday, February 14, I was just a Gooner. Not a journalist or sports writer; just a Gooner. So, that Vardy penalty was obviously a dive, and that low feeling reached the I've-just-been-kicked-in-the-groin stage when the England international absolutely thumped the penalty home, after sending Petr Cech the wrong way.
It was not a nice halftime for us Arsenal fans, let me tell you, with even the beer, much like everything else in this world, starting to taste bitter. The sense of injustice that a football fan can feel is insane, and that sense had hit the top level when Atkinson (of course, he was being called by different names by all the Gooners at that point of time) blew for the halftime whistle.
If it was difficult for this Arsenal fan and the rest of the millions out there to stomach, imagine how difficult it would have been for the players and the manager Arsene Wenger.
However, great teams are carved out of adversity (or some such over-the-top saying) and so Arsenal had to come back, and score not just one, but two goals to take all the three points, that they absolutely needed to stay in the title race.
The referee came out in the second half, and there was a sea change in the decision making. The tactical fouling that Leicester had employed all through the first half with absolutely no repercussions was being frowned upon, and yellow cards were brought out much easier now. In the space of a few minutes Danny Simpson got two of those – yes, yes, even an Arsenal fan knows the second one was harsh, but you are asking for trouble by tugging at someone's shirt/arm, no matter how slight the tug might have been – and the home team were thrown a lifeline.
Not that Arsenal might have not come back and scored two goals to win it 2-1 with 11 vs 11, mind; but the extra man certainly helped. Wenger made the key substitution on the hour, bringing on Theo Walcott for Francis Coquelin, and Walcott finally broke that barren run, finishing off a wonderfully-cushioned header from the always-underrated-unnecessarily-maligned Olivier Giroud.
At 1-1 with 20 minutes plus stoppage time to play, this was Arsenal's to lose now. The pressure kept piling on, and so did the nerves. Every chance missed was seen as the end of the world as we knew it: "no point in living now, how can Mertesacker miss that header, he was free, seven yards away, score man, c'mon!"
And when the goalkeeper also produces a top-draw save – after all, goalkeepers always seem inspired when they play Arsenal for some reason – that feeling of "yeah, just not our day, one of those days man, one of those days" only increases.
You resign yourself into thinking: "OK, five points to make up with 12 matches to play, that's not too bad, at least it isn't title race over. You never know, Leicester might choke and we (Arsenal) are capable of going 12 matches unbeaten."
That, of course, is a whole sight better than the thinking at halftime: "OK, so that is eight points now, we are done for. Ok boys, that is another title run that has ended, and now with Barcelona to come in the Champions League, the only trophy we can go for is the FA Cup. But, if we score early in the second half...."
The hope, though, never goes, even in the final seconds: "C'mon, one final cross, one final shot, one final dribble, one final through ball, c'mon, it's possible."
And possible it was as Mesut Ozil swung in a gorgeous freekick and Danny Welbeck – another of the Wenger substitutes (If Jose Mourinho or one of the other "tactical masters" had made those changes, they would have been praised to the heavens by the pundits) – glanced a perfect header into the corner to bring that feeling we all watch football and support a team for – sheer, unadulterated joy, the highest of highs you can possibly get.