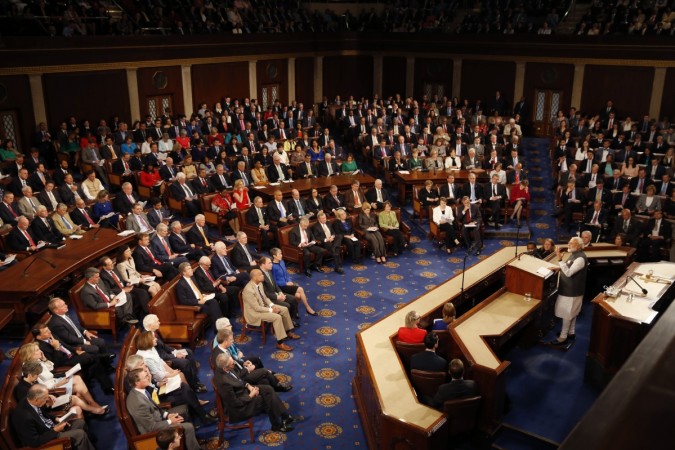 India's Prime Minister Narendra Modi addressed a joint sitting of the US Congress on Wednesday, June 8. In a speech that received a total of 40 applause and standing ovations, according to one foreign policy expert, Modi touched upon global issues ranging from international security, terrorism and environment. Bilaterally, Modi noted the two countries have travelled past the era of "shadow of hesitation" to today's "turning barriers into bridges" partnership. He sought the US support to "realise the full promise of this extraordinary relationship."
Only four of India's earlier prime ministers have received this rare opportunity to address the joint sitting of the world's longest democracy. Previously, Rajiv Gandhi, PV Narasimha Rao, Atal Bihari Vajpayee and Manmohan Singh have graced the Capitol Hill.
Excerpts from Prime Minister Narendra Modi's speech:
This temple of democracy has encouraged and empowered other democracies the world over....the threads of freedom and liberty form a strong bond between our two democracies.
Our founding fathers too shared the same belief and sought individual liberty for every citizen of India...Our founders created a modern nation with freedom, democracy, and equality as the essence of its soul.And, in doing so, they ensured that we continued to celebrate our age old diversity...Today, India lives as one; India grows as one; India celebrates as one.
Modern India is in its 70th year. For my government, the Constitution is its real holy book...800 million of my countrymen may exercise the freedom of franchise once every five years. But, all the 1.25 billion of our citizens have freedom from fear, a freedom they exercise every moment of their lives.
Our independence was ignited by the same idealism that fuelled your struggle for freedom. No wonder then that former Prime Minister of India Atal Bihari Vajpayee called India and the U.S. 'natural allies'. No wonder that the shared ideals and common philosophy of freedom shaped the bedrock of our ties.No wonder then that President Obama has called our ties the defining partnership of the 21st century.
More than fifteen years ago, Prime Minister of India, Atal Bihari Vajpayee stood here and gave a call to step out of the 'shadow of hesitation' of the past. The pages of our friendship since then tell a remarkable story. Today, our relationship has overcome the hesitations of history. Comfort, candour and convergence define our conversations.
We thank you for being there when the partnership needed you the most. You have also stood by us in times of sorrow. India will never forget the solidarity shown by the U.S. Congress when terrorists from across our border attacked Mumbai in November of 2008. And for this, we are grateful.
As this country knows well, every journey has its pioneers...The genius of Norman Borlaug brought the Green Revolution and food security to India. The excellence of the American Universities nurtured Institutes of Technology and Management in India.
Fast Forward to Today: Our S&T collaboration continues to helps us in cracking the age-old problems in the fields of public health, education, food, and agriculture. Ties of commerce and investment are flourishing. We trade more with the U.S. than with any other nation...Defence purchases have moved from almost zero to ten billion dollars in less than a decade.
SIRI tells us that India's ancient heritage of Yoga has over 30 million practitioners in the U.S. It is estimated that more Americans bend for yoga than to throw a curve ball. And, no Mr. Speaker, we have not yet claimed intellectual property right on Yoga. Connecting our two nations is also a unique and dynamic bridge of three million Indian Americans. (settled in the U.S)
Long before assuming office, I travelled coast to coast, covering more than 25 States of America. I realized then that the real strength of the U.S. was in the dreams of its people and the boldness of their ambitions. Today, Mr. Speaker, a similar spirit animates India.
Our 800 million youth, especially, are particularly impatient. India is undergoing a profound social and economic change. A billion of its citizens are already politically empowered. My dream is to economically empower them through many social and economic transformations. And, do so by 2022, the seventy-fifth anniversary of India's independence.My to-do list is long and ambitious.
A vibrant rural economy with robust farm sector
A roof over each head and electricity to all households
To skill millions of our youth
Build 100 smart cities
Have a broad band for a billion, and connect our villages to the digital world
And create a twenty-first century rail, road and port infrastructure
There can be no doubt that in advancing this relationship, both nations stand to gain in great measure. Looking eastward from India, across the Pacific, the innovation strength of our two countries comes together in California. Here, the innovative genius of America and India's intellectual creativity are working to shape new industries of the future.
The 21st century has brought with it great opportunities. But, it also comes with its own set of challenges. Inter-dependence is increasing...In Asia, the absence of an agreed security architecture creates uncertainty. Threats of terror are expanding, and new challenges are emerging in cyber and outer-space...our engagement can make a difference by promoting:
• Cooperation not dominance;
• Connectivity not isolation;
• Respect for Global Commons;
• Inclusive not exclusive mechanisms; and above all
• Adherence to international rules and norms.
India is already assuming her responsibilities in securing the Indian Ocean region.
A strong India-U.S. partnership can anchor peace, prosperity and stability from Asia to Africa and from Indian Ocean to the Pacific. But, the effectiveness of our cooperation would increase if international institutions framed with the mindset of the 20th century were to reflect the realities of today.
...globally, terrorism remains the biggest threat. In the territory stretching from West of India's border to Africa, it may go by different names, from Laskhar-e-Taiba, to Taliban to ISIS. But, it's philosophy is common: of hate, murder and violence. Although it's shadow is spreading across the world, it is incubated in India's neighbourhood...The fight against terrorism has to be fought at many levels. And, the traditional tools of military, intelligence or diplomacy alone would not be able to win this fight.The need of the hour is for us to deepen our security cooperation. Also, for us to succeed, those who believe in humanity must come together to fight for it as one, and speak against this menace in one voice. Terrorism must be delegitimized.
The success of our partnership is also opening up new opportunities for learning, security and development from Asia to Africa. And, the protection of environment and caring for the planet is central to our shared vision of a just world. For us in India, to live in harmony with mother earth is part of our ancient belief. And, to take from nature only what is most essential is part of our civilizational ethos. Our partnership, therefore, aims to balance responsibilities with capabilities. And, it also focuses on new ways to increase the availability and use of renewable energy. A strong U.S. support for our initiative to form an International Solar Alliance is one such effort.
But, since our interests and concerns converge, the autonomy in decision making and diversity in our perspectives can only add value to our partnership. So, as we embark on a new journey, and seek new goals, let us focus not just on matters routine but transformational ideas...And, important for the success of this journey would be a need to view it with new eyes and new sensitivities.
Final Thoughts and Words: our relationship is primed for a momentous future.The constraints of the past are behind us and foundations of the future are firmly in place. In the lines of Walt Whitman, "The Orchestra have sufficiently tuned their instruments, the baton has given the signal." And to that, if I might add, there is a new symphony in play.