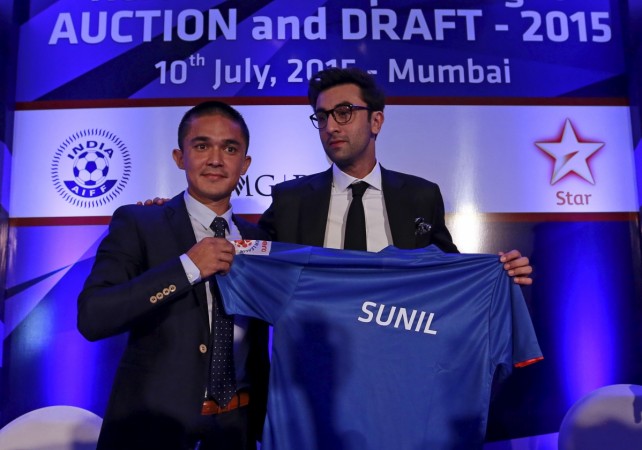 The Indian Super League, which kick-started last year, witnessed some big players from India along with iconic stars of world football in action, but India's best player, Sunil Chhetri, was not a part of ISL then. Football fans missed his goal-scoring ability, but come ISL 2016 season, the player will ply his trade for Mumbai City FC in the second edition of the league.
There is huge expectations for the Indian skipper, Sunil Chhetri, who also became the first Indian player to score 50 international goals for India. It just explains the quality of the player, who had a base price of ₹80 lakh in the first ever ISL auction.
Surprisingly, there was no bidding war from the franchises in the auction as expected, but the player was sold to Mumbai FC for a staggering ₹1.20 crore. Apart from Chhetri, Mumbai FC also picked Brandon Fernandes and Keegan Pereira amongst others.
These players are going to gain a lot as they will be managed by one of the most experienced players in world football, Nicolas Anelka, who has a bank of experience playing for big clubs around the world such as Real Madrid, Chelsea and Arsenal to name a few. In fact, Anelka is the player-manager for Mumbai FC, which is owned by Bollywood actor Ranbir Kapoor.
With both Anekla and Chhetri being strikers, the former Arsenal striker can help provide some important inputs to the Indian skipper.
"Yes, I'm really looking forward to working under him," Indian Super League official website quoted Chhetri as saying. "I want to be as fit as possible and be an asset to the team. At the same time, [I] also want to gel with the whole team because in football until all the players don't work together, we won't get the goal."
The ISL was a huge success in the first edition as stadiums were almost full in a number of matches and hopes of the nation were raised with some high quality football at the offing as well. But one cannot just depend on ISL for improving the standard of Indian football.
To some extent, the players will see an overall improvement when they clash against better players and opposition, but it is upon the players' will and their hunger to succeed, which will prove to be crucial.
"It's not the ISL's direct duty to promote Indian football. I have always maintained, it has to be from all directions. As players, we have to train ourselves and be better," added Chhetri.