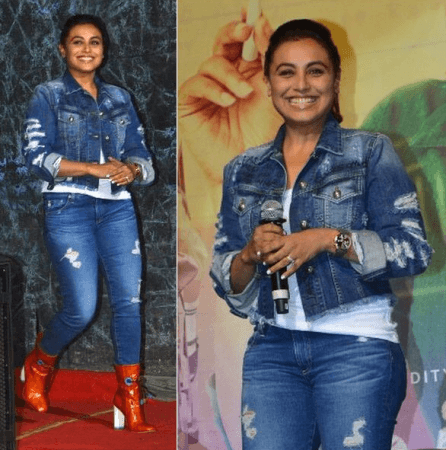 Rani Mukerji's Hichki was made with a budget of Rs 20 crore and within a week, the film has crossed that figure and is a hit at the box office. The actress celebrated the success of the film March 29. Here's what the lady said:
Talking to Indian Express, Rani spoke about Hichki's success and said: "The glow is thanks to my daughter. But yes, the happiness is also because Hichki is a success. Success this time meant a lot because there are basic prejudices that come with married actresses and those who are mothers. How we are a dead commodity. We don't sell and that no one wants to see us. Then to actually have an audience that showers so much love on you and tells you, 'We don't care you are married or a mother. We just want to see you on screen.' That validation matters a lot because as a professional, I am the same girl.
Rani Mukerji said, ''More than tasting sweet, I think it brings relief and happiness to all of us because all the things that we did go against set 'norms'. There are always doubts in people's hearts and minds about whether a married actress, who is also a mother now, will be accepted by the moviegoers or not. Plus, this is not a masala film. It's a sweet story about education and has a message for the society.''
"Just because I got married and had a baby, nothing changed in me. I am the same actor. I don't know why this stigma has been attached to actresses that once we want to have a life of our own, we have to give up on our other love. Actors don't get this. They have a successful career and parallelly lead their normal lives. Only actresses are made to choose marriage late in their lives because they feel our commodity dies once we are married," Rani told a leading publication.
At the Hichki success event, Rani said that her daughter Adira hates makeup. "She understands that I am coming from work now and says 'Mumma just remove the makeup'. She doesn't like make-up, just like her father. So that way, the DNA is working fine," she said.
Rani Mukerji also spoke about her husband Aditya Chopra, "It was important for me to get married to someone I love and respect. Being an achiever in the acting profession, you seldom get people you can respect. You get people whom you can love, but respect is far and rare. These were two of my criteria and Adi has been someone I have always respected. He is a great entrepreneur and leader who is very encouraging and loyal to his people. These are the rare things in the industry because in a place where people respect you for a Friday. His respect for you is for your craft regardless of the success," she told Indian Express.
Concluding the event and whether she would do more films, Rani said: "I will be back (on screen) soon. I will do more films because now, my audience has given me the strength to come back faster as they have told me, 'we believe in you, your talent and your work.' I am thankful to them that I can pursue my dream of going on doing films, regardless of my gender and personal life status. I have heard scripts but kept them on hold as I wanted to see how Hichki would fare. Now, I will go back to the scripts."