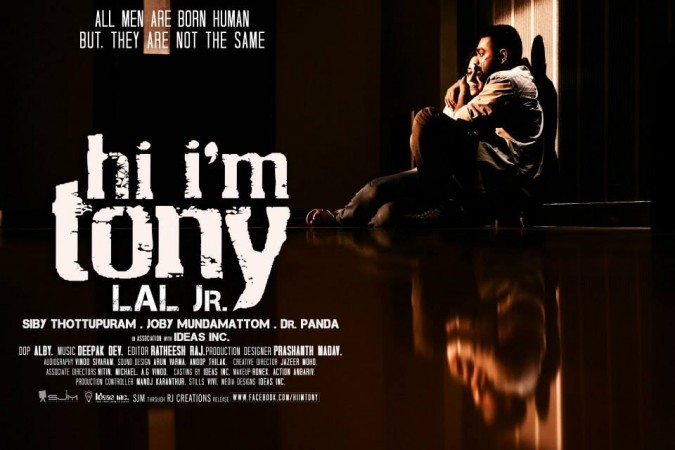 Malayalam film "Hi I'm Tony" directed by Jean Paul Lal alias Lal Jr opens with an average review. This is Lal Jr's second directorial venture after "Honey Bee" (2013), starring Lal, Asif Ali, Biju Menon, Mia George and Lena in the lead roles.
The music of the film is composed by Deepak Dev and the camera is handled by Alby. The film is produced by Siby Thottappuram and Joby Mundamattom under the banner of S J M Entertainments (SJME) in association with Sabir Jaseer of Ideas Inc. SJME has earlier produced "Honey Bee" and "Mannar Mathai Speaking 2."
Plot:"Hi, I am Tony" is a psycho thriller based on happenings in a day in Bangalore. The film is about Sameer (Asif Ali) and Tina (Mia) who decides to elope to Bangalore against their parents' wishes to start a life together. They are helped by Achayan (Biju Menon) to find a place to stay, which is a fully furnished flat. Their life takes a turn when mysterious man Tony (Lal) enters their life.
Critics reviewed the film as below average, but appreciated the film for its technical excellence, especially the sound design. The cinematography of the film is also appreciated as one of the positives of the film. Even though the film is said to be set in a good plot, the script fails to uplift the film. Performances by Asif Ali and Mia George as tortured couples are also appreciated.
Here is the review roundup of "Hi I'm Tony"
"The movie somehow had the hurry to get to the finish line. Yet the last 20 minutes of the movie, is worthwhile to be mentioned. The pounding action scenes plus the entertaining twists, made the movie a "sit-back and watch". Not to forget about the astounding sound designs", said Onlookersmedia
"The film begins on a high and showed lot of promise initially but gradually the excitement sinks and we are kept waiting for the torture to finish as early as possible. The final half an hour does bring in some thrilling feel but it was too late to make things better. I would say this is an experiment of presenting something in a different way that went wrong", said Chandra of Filmleon
"'Hi I am Tony' needed a better actor to enact protagonist, one felt. Lal has done characters with streaks of eccentricity many times over. His mannerisms as a criminally inclined man with psychic disturbances look repetitive. Asif Ali tries his level best, but his performances proves only average for most parts. While Mia looks the part with her charming looks and subdued acting" said Raj Vikram from Metro Matinee
"Alby's framed do capture the darkand violent mood prevailing in the movie. Sound effects are really special while Deepak Dev does nothing special with a solo song or the BGM. "Hi I Am Tony", is a failed attempt, though Lal Junior tried to deliver a thriller, that is not run of the mill", added Vikram