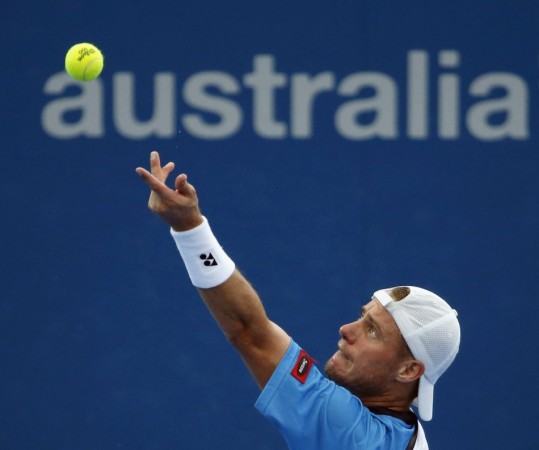 Lleyton Hewitt finally managed to break his streak of bad luck by winning not just the singles title at the Newport Hall of Fame Tennis Championships but also the doubles, after teaming up with fellow Australian Chris Guccione.
The 33-year-old beat the second seeded lanky Croat Ivo Karlovic 6-3, 6-7(4), 7-6(3) on Sunday, to clinch his 30th ATP world tour title and his first at Newport, with the match having lasted a total of 2 hours and 30 minutes.
"I felt relief to have finally won here. It's an important tournament. For me, I've come here the last three years and have come awfully close the last two years. It's nice to be rewarded today," an ecstatic Hewitt said after the match.
It was not an easy match for the Aussie as Karlovic, 35, who despite not being in the pink of his health, played his best tennis, having been prominent in the second set which he won in the tie-break.
Hewitt made good use of Karlovic's weak second serve, where he amassed 36 winners out of a total of 54, with the winds wreaking havoc and making it very tough for the players to serve.
"We had tough conditions today, especially for serving" Hewitt pointed out. "I was just trying to play clean tennis as much as possible. From the baseline I was able to adjust to wind better than him."
The Australian won the first set with much ease after breaking the Croat in the third game to finish 6-4.
That ease, however, did not last long as Karlovic fought hard in the second set and managed to save two match points in total, when Hewitt was in control of the match, serving at 5-4. He then ended up squandering the opportunity as Karlovic successfully broke his serve and took the game into the tie-break, winning it 7-3.
The second set score line heavily reminded one of Hewitt's scores from last year, when he lost to Nicolas Mahut whilst serving at 5-4 to win the match, only to get defeated in a three-setter.
All did not look well for the Australian at the beginning of the third set, where he had to fight off three break points, which could've spelt his doom for the third time. However, he managed to hold his composure and win the game, with the set resulting in a tie-break.
He was successful in containing Karlovic 7-4 in the tie-break, to finally realize his dream of winning at Newport and claiming the $81,500 prize money.
"Hewitt returned really well. He rarely missed. I didn't have my normal serve because it was windy," a disappointed Karlovic said. "I was committing a lot of double faults and missing volleys - both of which I don't normally do. That was because of the wind and because Hewitt was always right there."I'm a little disappointed but overall it was a good week."
Meanwhile, in the doubles contest, the Australian pair of Hewitt and Guccione took on the Argentina-American pairing of Jonathan Erlich and Rajeev Ram, who they beat in straight sets
"It was good to win with 'Gooch' - we'd never won a title together before, 7-5, 6-4," Hewitt said, while talking about his partner. "We've played some big matches, in Davis Cup. It was important for us to win. I'm pretty pumped about it."
Guccione could not agree more with his partner: "It's nice to finally cross the line and have a victory."