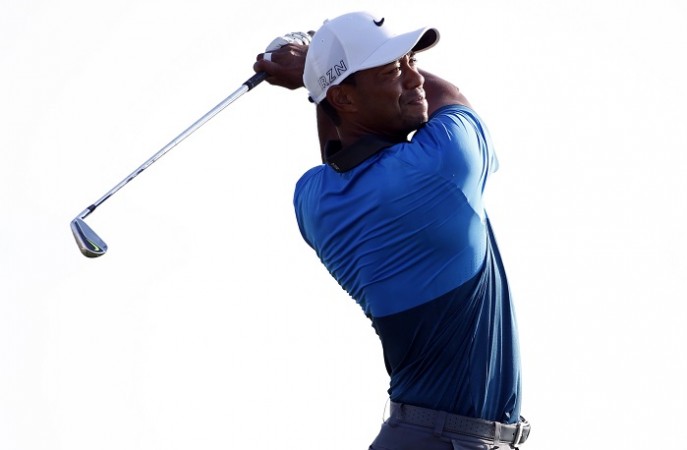 Tiger Woods, for the first eight holes of the first round of the Hero World Challenge – his first tournament on the PGA Tour since August, 2015 – looked like the Tiger Woods of old, the one that dominated the sport with power, precision and panache. And then, in the blink of an eye, the Woods post-2013 came to the fore as the American struggled through the back nine to settle on a score of 73 at Albany in the Bahamas on Thursday.
Making a much-anticipated and long-awaited comeback to golf, after a serious back injury kept him out for nearly 16 months, Woods looked in brilliant form over the first eight holes, when he was four-under and holding a share of the lead.
However, that fast start would not last as Woods' lack of golf and the inconsistency that has troubled him for the past few years came back, leaving the American in 17th place out of the 18-man field. Only Justin Rose, with a 74, is behind the 14-time major champion.
"I hit the ball in three bushes and a water ball," a disappointed Woods said. "It could have been something really good. I got off to a nice solid start and made a few mistakes there. I didn't play the par 5s very well in the middle part of the round and consequently got it going the wrong way.
"I just made some really, if you look at it, some really silly mistakes, mistakes I don't normally make, but I haven't played in a while.
"Unfortunately, I made those mistakes, I can clean that up. We've got three more days. Wind's supposed to pump on the weekend and I'll be playing a little bit better."
There is no cut in this tournament which is hosted by the Tiger Woods Foundation, so the 40-year-old will hope to iron out the chinks over the next three rounds, and maybe, maybe find himself somewhere near the leaderboard.
JB Holmes, who shot an eight-under 64, currently controls the Hero World Challenge 2016. Japan's Hideki Matsuyama is right behind the American after shooting a 65, with Dustin Johnson a further shot behind.
The Open champion Henrik Stenson shot a 67, along with two others, while Jordan Spieth finished with a four-under 68.
Get the complete leaderboard from the Hero World Challenge first round HERE