Salman Khan's production venture "Hero" starring Sooraj Pancholi and Athiya Shetty will be released on 11 September and a week later, Aamir Khan's nephew Imran Khan,s "Katti Batti", which also features Kangana Ranaut, will hit theatres.
Both Salman and Aamir have been actively associated with the movies "Hero" and "Katti Batti", respectively. Interestingly, both the films have been directed by Nikhil Advani.
Apart from being the producer of the movie, Salman has been sincerely promoting "Hero" and also played a major role in the film's editing. Likewise, Aamir has also been offering various suggestions to the makers of "Katti Batti" with regard to the film's dialogues and editing.
Earlier, Salman chopped out a kissing scene between Sooraj Pancholi and Athiya Shetty from a song in the movie "Hero". And now, Aamir suggested the director of "Katti Batti" to translate certain English dialogues in the movie into Hindi so that the audience can connect to the film more easily, reports DNA.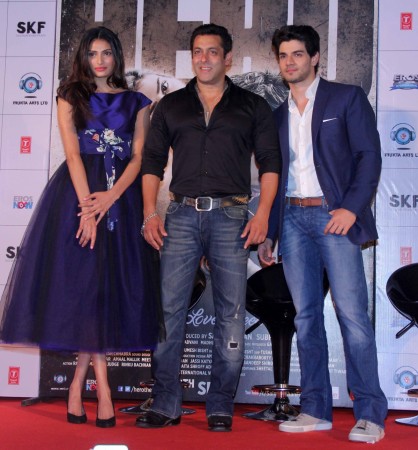 The movie "Hero" happens to be Sooraj Pancholi and Athiya Shetty's debut project, while "Katti Batti" is considered to be Imran Khan's comeback film; his last film was "Gori Tere Pyar Mein" in 2013.
Both Salman and Aamir have been doing everything to make the respective films as much popular as possible. Apart from Imran Khan, Nikhil Advani's "Katti Batti" features Kangana Ranaut, who is one of the most successful actresses of Bollywood in recent times.
"Hero" features two newcomers, but the film has apparently become popular for its association with Salman. According to reports, "Hero" was supposed to be released in July 2015 but the makers of the film decided to release it after "Bajrangi Bhaijaan", so that it benefits from Salman's popularity. Moreover, Salman recorded a song "Main Hoon Hero Tera" for the film in his own voice, which certainly created the necessary buzz for the film.
While Salman is highly impressed with Sooraj Pancholi and Athiya Shetty's performance in "Hero", Aamir Khan was, a few days ago, spotted with tears in his eyes after watching "Katti Batti", apparently being touched by the film's emotional content.
In such a scenario, it will be interesting to see whether Salman Khan's popularity and promotional techniques for "Hero" click or Aamir Khan's "perfectionist" touch to "Katti Batti" sways the audience.