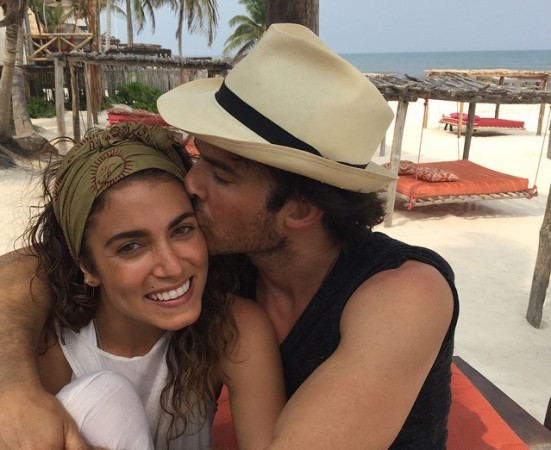 For months now, there have been reports of a marital discord between "The Vampire Diaries" actor Ian Somerhalder and his actress wife Nikki Reed.
One of the main reasons why they have been fighting, according to reports, is Somerhalder's desire to start a family and Reed's hesitancy in doing so. Reportedly, she wanted to focus on her career and make something out of it before settling down to raise babies.
"They're arguing a lot," a source told OK! Magazine, according to reports. "Nikki is ambitious and worries about derailing her career if she gets pregnant now."
All this started after Somerhalder said in an Entertainment Tonight interview that he was ready to have babies.
"It's the most incredible thing to be happy and secure in something. It's a pretty crazy time and place to bring a child into this turbulent and insane world — but I really can't wait to do it and really just love it," he said.
Somerhalder and Reed recently teamed up with the Humane Society and took a stand against dog fighting, and according to Celeb Dirty Laundry, the couple did so with an agenda. The gossip website believes that the two joined together to put to rest divorce rumors and baby battles.
"To combat the growing number of reports of Ian Somerhalder and Nikki Reed's divorce, they have created a video supporting a charitable cause close to Nikki's heart – animal rights. This show of unity is pretty much a positive way to do damage control," Celeb Dirty Laundry noted.
This report has been debunked by a number of other news outlets, with quotes from sources close to the couple saying they are happy together. Sadly, there have also been attempts by some sections of the media to hype up the alleged fights between Somerhalder and Reed by bringing his ex girlfriend Nina Dobrev into a non-existent love triangle.
Dobrev and Somerhalder dated for three years before calling it quits in 2013. They were also co-stars on "The Vampire Diaries" until her exit a few months ago.