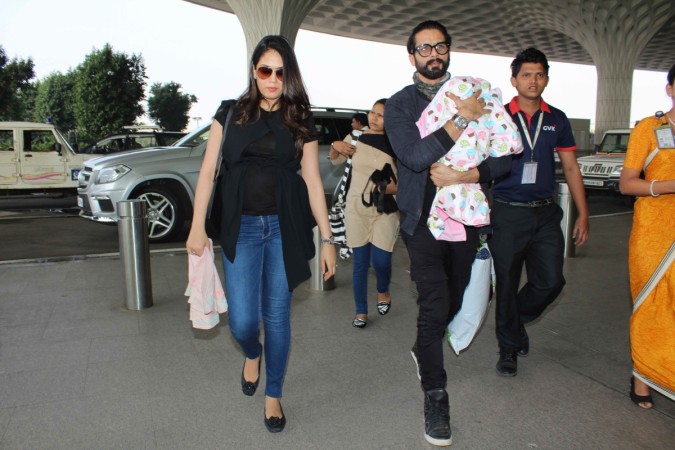 Bollywood actor Shahid Kapoor has proved that he is a doting and protective father to his daughter Misha. The actor had even announced on national television, when he appeared on Koffee With Karan 5, that Misha will not marry anyone!
Rangoon trailer: Watch Shahid, Kangana and Saif's story of love, war and deceit
Recently, the Rangoon star got angry when photographers tried to click Misha's pictures at the airport. It is said that they crossed the line by getting too close to get a close angle photo of the baby. Shahid took the matter to Twitter and snapped at the media.
"Unfortunate how some journos don't realise how bad 20 cameras flashing 2 feet away are for an infant's eyes. No common sense in their dna," Shahid tweeted. Born on August 26 last year, Misha has gotten her name in a unique way. Shahid and Mira's names made her's.
The actor has been extremely protective towards his baby girl. Not a single photo of Misha has surfaced online since her birth. But, Kareena Kapoor Khan and Saif Ali Khan's pictures with baby Taimur have been doing the rounds from the first day.
Shahid has, however, shared one photo of Misha, but it didn't feature her face. The picture was of her cute little shoes and Shahid captioned it saying: "Mi-shoe." Meanwhile, the actor has impressed once again with his performance in Rangoon trailer, which released on January 6.
The Vishal Bharadwaj directorial is set in the backdrop of World War II when India was fighting for its independence from the British rule. The trailer depicted the stunning love triangle between Shahid, Saif and Kangana Ranaut.
The Haider actor will also appear in Sanjay Leela Bhansali's Padmavati this year. He will share screen space with Deepika Padukone and Ranveer Singh in it.