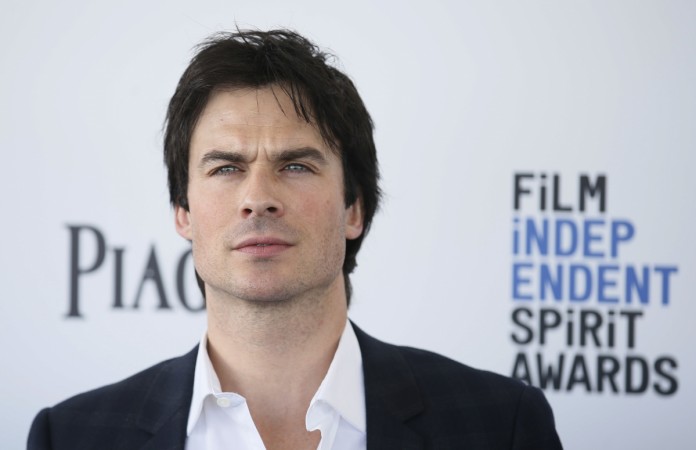 "The Vampire Diaries" actor Ian Somerhalder, who plays Damon, has been dubbed arrogant by fans of the vampire drama after he appeared rude when asked about Nina Dobrev's return during an interaction with the media during San Diego Comic-Con.
"No! You're not gonna get them! Sorry, bud. Zero," Somerhalder said when asked about the possible return of old cast members.
A video of the interview shows the other cast members visibly uncomfortable with Somerhalder's abrupt reply, but executive producer Julie Plec was quick to point out that she was holding on to the friendship promise Dobrev made before quitting the show.
"Not to put too much pressure on anything, Nina Dobrev, but a promise was made," Plec told TVLine at Comic-Con. "An emotional promise that I'd like to see come to life. There's been friendship promises made, and now we'll see if we can deliver on them."
Shortly after Plec expressed hope about Dobrev's return, Somerhalder interjected: "I'm sorry, I thought we already had a conversation about this. Apparently not." He also said that there was just a 18.75 percent chance of Dobrev returning.
Check out the interview below:
Fans were quick to call out the actor for appearing egoistic and arrogant.
"I lost respect for Ian long ago. This is so unprofessional," wrote one fan in the comment section of the video. "He's happily married. Why would he have such disrespect Nina? When she's been asked about Ian and Nikki she's always been respectful and said that she was very happy for them. She even expressed that they still were friends."
"What a brat," responded another. "They should have kept Malachi he was so funny and charismatic , kept Nina and sacked Ian."
"The Vampire Diaries" will return to CW with Season 8 on Oct. 21.