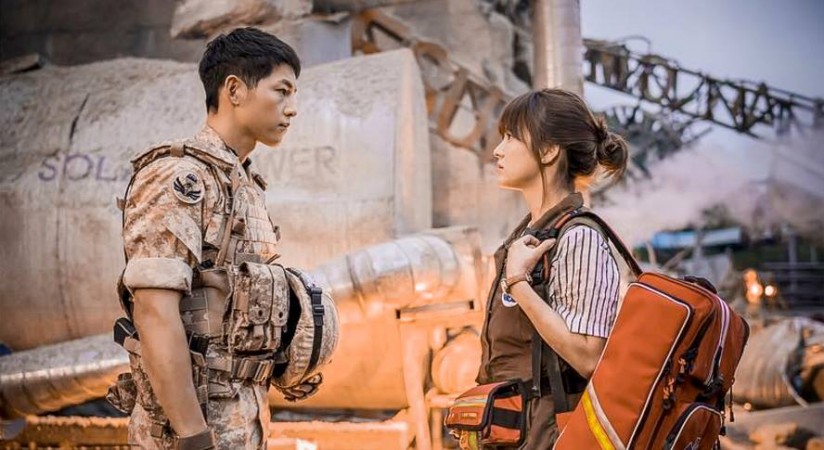 New reports claim that Song Joong Ki and Song Hye Kyo, who played on-screen lovers in Korean Military drama Descendants Of The Sun, will confess their romance during the premiere of the actor's new movie Battleship Island. Reportedly, Song Joong Ki has asked his former co-star to be his date for the premiere.
Song Joong Ki and Song Hye Kyo played Yoo Shin Jin and Kang Mo Yeon in Descendants Of The Sun, and they have been hounded by romance rumours ever since they acted together. Both Song Joong Ki and Song Hye Kyo are extremely private, and they have refused to talk about their romantic lives. But according to reports, their body language proves the existence of a romantic interest between the two.
Neither Song Joong Ki nor Song Hye Kyo has refrained from praising each other in public, and this has only given momentum to such rumours. Recently, the actor called Song Hye Kyo his best partner and revealed that she had sent a coffee truck as well as snack truck to the Battleship Island set as a gift. "She not only sent a coffee truck, she sent a snack truck too. She's the best partner," he said at the Seoul Drama Awards 2016 red carpet.
It remains to be seen if Song Joong Ki and Song Hye Kyo will confess to being involved, and till that time all news about a romance should be taken with a grain of salt. But it is highly unlikely that he will comment about his personal life and he had earlier requested the media to stop digging into his personal life.
"My family has been exposed to the media," he told Asia One. "Some people break into our house. My ex-girlfriend's photos are circulating online. To say that these are things I need to endure for the sake of celebrity ... that's sad. I want to respectfully request that my private life remain private."