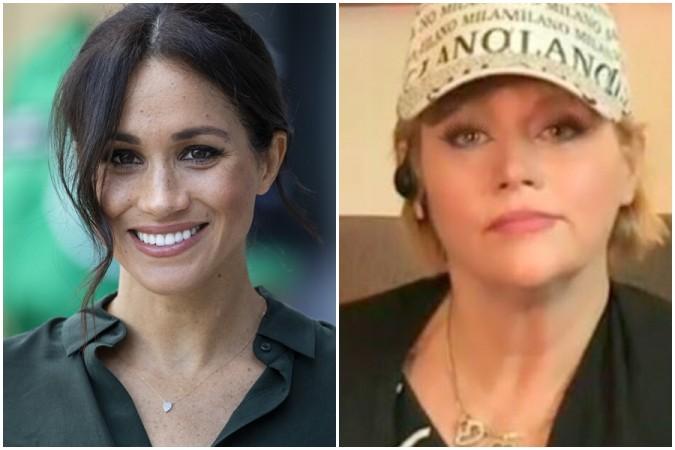 The Duchess of Sussex Meghan Markle's half-sister Samantha claims she has left all the bad things in the past after hearing Meghan's pregnancy news and wants to focus on her well-being.
Kensington Palace has sent out a statement that Meghan Markle and her husband Prince Harry are expecting their first baby. After hearing the news, Samantha and her father Thomas Markle said that they are delighted about it.
Samantha told The Sun, "It just makes everything that happened over the last year disappear. I want Meghan to be happy and calm and have peace. Everybody needs to be positive."
Although Samantha wasn't pleased when the Palace sent out another statement about Doria Ragland's wishes to her daughter but did not include Thomas Markle's views. She hopes that they will include him in Meghan's life in "proper time".
"If he is excluded, I won't be happy. It is in the best interests of the baby for my dad to be included," Samantha added.
According to the media outlet, Samantha is vacationing in Ireland right now after her short trip to London to confront Meghan did not go as planned. The Sun shared pictures of Samantha holding a card that read 'Baby'. She said, "A baby changes everything and softens everyone. I would only hope that there would be some adjustment or some way of including him."
"Thomas is absolutely delighted and overjoyed for his daughter," said a source to The Sun. Samantha hopes that her father would get reunited with Meghan so that he doesn't miss out on getting to his grandchild.
"At a proper time, there should be a sit-down wherein everyone can address this properly. Everything has to work itself out. I want to allow Meghan and Harry to bring my dad into it in their own appropriate time because they very well should do. Although I can still say I love my sister, I wasn't happy with the way my father was being treated," Samantha concluded.