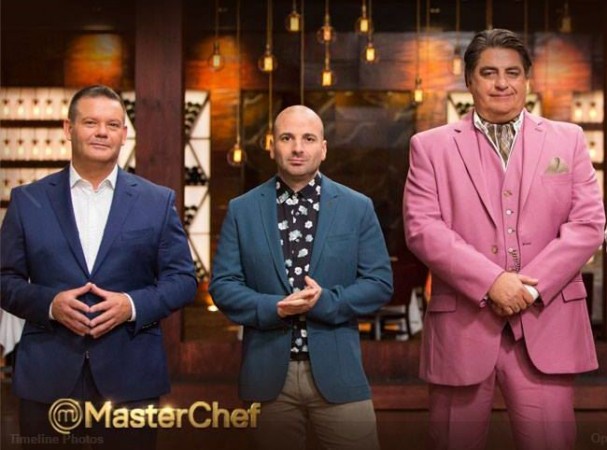 It's not the first time "MasterChef Australia" judges Gary Mehigan, George Calombaris and Matt Preston have descended into the tropics. However, it's a first for all three to be present in Bengaluru, India, at the same time.
The self-proclaimed "Three Musketeers," who are in the city as part of the international food festival World on a Plate, described their fascination with the sabzi mandi (the Indian farmers' market), picked out spices that thrilled them, and spoke about Indian contestants Nidhi Mahajan and Rishi Desai, who have appeared on "MasterChef Australia."
Most Indian fans of the cooking reality show have, at some point, wondered how judges would find the robust flavours of spices that are less commonly used abroad. For example, the pungent kala namak or black salt, or hing, more commonly known as asafoetida, are ingredients one wouldn't usually see on "MasterChef Australia."
For Mehigan, Calombaris and Preston, however, these condiments contribute to an Indian culinary experience that's unique.
"When I went to Delhi and saw the spice markets, I've never ever in my life seen a market like it. It was absolutely unbelievable. From little pine nuts to 20 different types of cashews and little rock salts that I've never seen anywhere else in the planet. It's something to be proud of," he told reporters in Bengaluru.
Indeed, these revelations are even documented on their Instagram accounts. A quick scan of their social media accounts reveal what can be best described as a loving, growing relationship with Indian food.
The judges' hearty breakfast at Bengaluru's famous Airlines Hotel and their trip to Russell's Market, a bustling marketplace for fish vendors, suggests that Mehigan, Calombaris and Preston have an aspiration to experience what India has to offer.
"I make appam at home, although I don't know where I stand by Indian standards," Mehigan said.
Although Indian cuisine is ubiquitous, and in Preston's words, the country's food is available in every other street in Australia, he wondered if India is ready to become a culinary destination.
Preston said Indian chefs experimenting and introducing new flavours in Indian cuisine are doing it outside the country. It's important to ask where the space is for these chefs in India, he said.
And it is this lack of fresh perspective that perhaps sent "MasterChef Australia" Season 8 contestant Nidhi Mahajan home. The native from Punjab, who won the hearts of the judges and celebrity chef Marco Pierre White, served Indian food that's traditional, but one that didn't step out of the confines of curry and Indian desserts.
"When you enter a competition with eight-nine dishes, you run out of ideas soon," Mehigan said. His fellow "musketeer" Preston concurred, adding that it's essential to be armed with a vast knowledge of different techniques while entering a contest like "MasterChef Australia."
Preston said a challenge like baking, for instance, would throw any contestant off guard if that skill was missing.
For the judges, it was Desai's modern Indian food that resonated with what "MasterChef Australia" sets out to do. The Season 5 contestant, who served dishes such as slow-cooked Kolhapuri goat with cauliflower purée and poppadom, in many ways symbolises the future of Indian food — one that's modern and refreshing.
In the words of Calombaris: "Rishi is the best Indian contestant we've had so far."