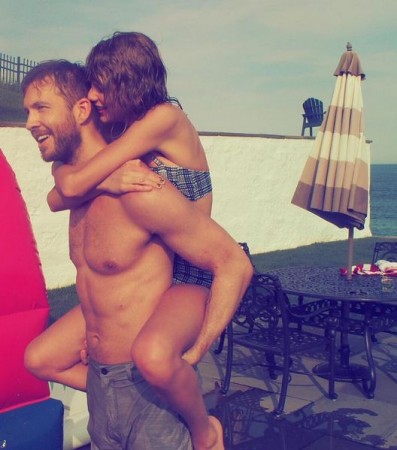 Rumours suggest that "Bad Blood" singer Taylor Swift and her beau of six months, Calvin Harris, have split. The cause for the alleged breakup, according to media reports, is a photograph that showed Harris emerging out of a Thai massage parlour. The photograph is said to have caused Swift to become insecure about her relationship with the DJ, and she immediately cut off all ties with him.
"When the photos got posted on RadarOnline, Taylor said to him, 'What the f**k?!" a Radar Online insider said, adding that Swift gave him the boot about a week ago.
However, according to his latest tweet, there is no truth to these rumours. "It's not going to be a happy ending for everyone I sue for defamation of character for all these bullshit stories bye bye," Harris tweeted, and it did not take long for Swift to favourite the message.
Swift's friend Selena Gomez too addressed the split rumours during a radio chat show, saying people shouldn't believe all that's written in tabloids.
"It's so stupid," she told Sirius radio. "I'm 'pregnant every week, she's going to be pregnant. Honestly, it's so stupid, you can't really read that stuff."
Harris and Swift have been dating since March, and in a recent interview, the DJ admitted that everything was fantastic in their relationship.
In a KISS FM UK interview, he admitted that it was inevitable that their romance would be under constant scrutiny, and rumours are bound to crop up. "For me, it could be a lot worse and I'd still be insanely happy with her," he said. "It's interesting because obviously there's different things written about it every day and even if we don't do anything publicly for a while, someone will make something up."