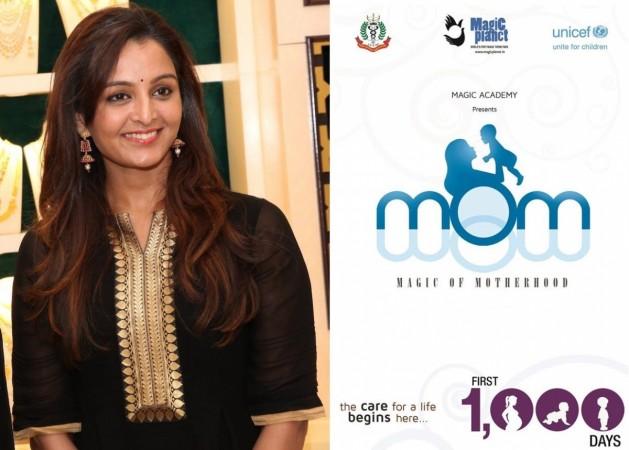 Malayalam actress Manju Warrier has turned magician with Gopinath Muthukkad as part of UNICEF's ambitious "Golden 1000 Days" initiative at KINFRA Film and Video Park in Thiruvananthapuram on July 16. The magic show titled "Magic of Motherhood" was conducted to create awareness among the viewers on the importance of first 1,000 days of a child's life.
In the magic act, Manju is seen as a doctor who advises a pregnant lady to drink enough water, eat vegetable and fruits. She also instructs the lady to take three doses of tetanus vaccine and to have a relaxed mind throughout the pregnancy period. The act ends with Manju presenting the UNICEF's booklet "First 1000 days."
The actress also performed a rope magic during the grand event, which also witnessed the presence of Kerala Chief Minister Pinrayi Vijayan and filmmaker Adoor Gopalakrishnan among many others. The CM also inaugurated the Mom centre formed in association of UNICEF and Magic Academy.
Manju was recently in the news for training under Muthukad at the Magic Planet in Kazhakoottam and the event's video has now been shared by the magician on his verified Facebook page. The video has gone viral with more than three lakh views within 18 hours.
Watch the video here:
Meanwhile, on the acting career front, Manju was last seen in Deepu Karunakaran's sports movie "Karinkunnam 6's" in which the actress played the role of a Volleyball coach, who trains a group of inmates of Poojapura Central Jail. She was also recently in the news for enacting the character of Shakuntala in a Sanskrit play "Abhijnana Shakuntalam," which was performed as a tribute to late dramatist Kavalam Narayana Panicker.