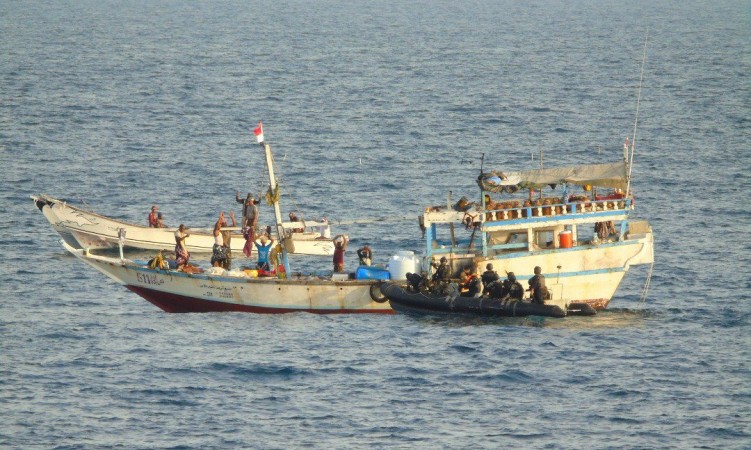 Indian Navy Ship INS Sharda foiled a piracy attempt in the Gulf of Aden on May 16, and also rescued a Liberian ship in the process, earning praise for its actions. The Gulf of Aden, off the coast of Somalia, is often targeted by pirates of Somali or other origin, and INS Sharda was stationed there to thwart exactly such attacks.
The Indian ministry of defence, in an official statement, said: "INS Sharda is deployed for anti-piracy patrol in the Gulf of Aden since Apr 6, 2017. On May 16, 20 17, at about 1645 hrs [4:45 pm local time], the ship received a distress call from MV Lord Mountbatten, a Liberian-registered ship, in position 230 nm [nautical miles] South-West of Salalah in the Gulf of Aden."
It added: "The vessel had reported an incident of attempted piracy by two suspicious mother vessels alongwith seven-eight skiffs. Sharda, which was at that time 30 nm East of the reported position, immediately responded to the distress call and proceeded at best speed to investigate the incident."
The method of piracy described is a common one. First, the modern-day pirates approach their target in larger ships. Then they send out small boats such as skiffs with one or two people to board the targeted vessels. Skiffs are used because they are faster, smaller and stealthier than normal rowing boats. And that was how the Liberian ship was approached.
The defence ministry detailed the Indian Navy ship's subsequent actions thus: "On arriving in the area by about 1900 hrs [7pm], Sharda detected two dhows alongwith eight skiffs in the vicinity [of the Liberian ship], three of which fled the area at high speeds on sighting the warship. Indian Navy's MARCOS [Marine Commandos], with support of the armed helicopter from the ship, investigated the dhows and their skiffs by conducting board and search operations."
It added: "The absence of any fishing gear onboard the two dhows and the remaining five skiffs indicated malicious intent and possible piracy-linked intentions. One high-calibre AKM rifle along with one filled magazine (28 rounds) was found hidden onboard one of the dhows. The weapon and ammunition has been confiscated to prevent future illegal misuse."
This is hardly the first time India has rushed to the help of distressed ships in the Gulf of Aden. India has so far escorted 3,749 ships across the pirate-infested gulf, and has responded to as many as 40 distress calls before this. In the process, it has also rescued 74 fishermen and apprehended 120 pirates.
What is INS Sharda?
INS Sharda is one of the several Sukanya-class patrolling vessels commissioned and used by Indian Navy. Besides Sharda, the other ships in the class are Sukanya, Subhadra, Suvarna, Savitri and Sujata — all named after famed women from Hindu mythology. There was also an INS Sarayu, but it was sold to Sri Lanka in 2000 and renamed SLNS Sayura.