Self-styled godwoman Radhe Maa is back in the news with yet another controversy. However, this time, she dragged a station house officer (SHO) of Vivek Vihar Police Station in East Delhi also into the issue along with her.
Fresh allegation against Radhe Maa: Arshi Khan accuses her of running 'Hawala' along with sex racket
SHO Sanjay Sharma had reportedly offered his seat to Radhe Maa a week ago when she visited the station.
The incident came to light now as the photograph of the godwoman seated in the SHO's chair surfaced on Thursday. Further, Sanjay Sharma is seen wearing Radhe Maa's golden-bordered dupatta around his neck and looks extremely pleased with her visit.
Radhe Maa, born as Sukhwinder Kaur, is an accused in two separate cases including a dowry harassment.
Radhe Maa took seat without permission
While several news agencies reported that the SHO willingly allowed her to sit in his chair, a Hindustan Times report stated that Radhe Maa took the seat without his permission.
Radhe Maa visited the police station when Sharma was in his office at around 11.30 pm on September 28. She along with her followers were on their way to a Ramleela event in the Vivek Vihar area.
"Her followers said she wanted to visit the washroom. So, I allowed her to use the toilet (in the SHO's office)," Sharma said.
"Since the toilet was located right behind my chair, when Radhe Maa came out, she allegedly sat on the SHO's chair without seeking permission. There were 15-20 of her disciples along with her. They stood nearby," he added.
Though Sharma claimed the entire incident was over in five minutes, senior police officers said a probe will be ordered.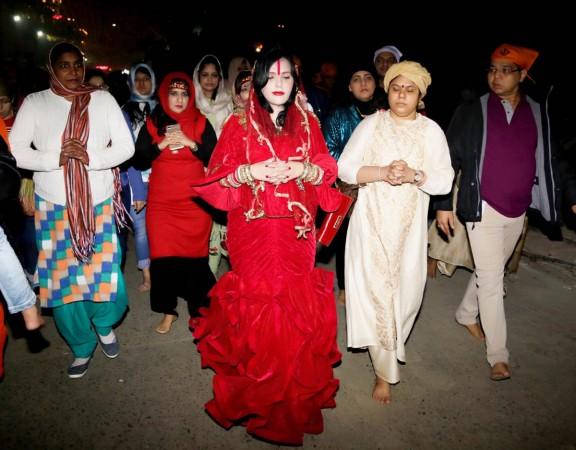 "We will examine it and take appropriate action," Dependra Pathak, chief spokesperson for the Delhi Police told the leading English daily.
In yet another video which was shot at a Ram Leela event in Delhi GTB enclave, Radhe Maa was seen dancing to a patriotic song sung by a police officer while the other cops join him in the chorus.
Here's the video of the Ram Leela event: