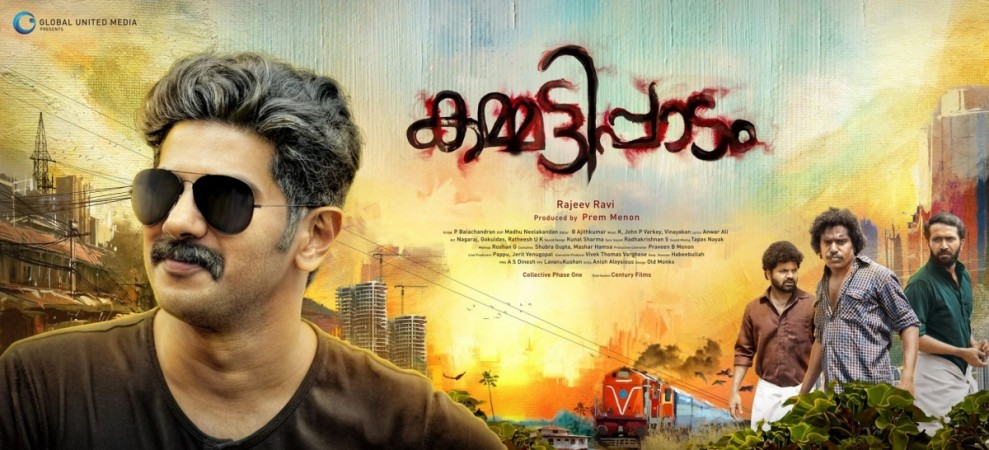 The official trailer of Dulquer Salmaan's upcoming Malayalam movie, "Kammatipaadam," opened to a tremendous response from viewers upon its release on Monday, May 16. The one-minute 24-second trailer of the Rajeev Ravi-directed movie was released on the YouTube channel of Global United Media.
The trailer features Dulquer as Krishnan, Vinayakan as Ganga, Shaun Romy as Anitha, and Amalda Liz as Rosamma, among others. "Ready for KammatiPaadam ??! Here is the rocking trailer ! The amazing amazing cast I got to work with! The unbelievable music. The sheer talents that make this team are some extraordinary people. Rajeevetta you are a superstar ! Thank you for giving me this opportunity [sic]," Dulquer posted on his Facebook page while sharing the trailer of "Kammatipaadam."
The official trailer has already gone viral on social media, with more than 2.1 lakh views in less than 17 hours of its release on the video-sharing website. Many celebrities, including Farhaan Faasil, Lijo Jose Pellissery, Srinda Arhaan, Aashiq Abu, Binu Pappu, Pratap Pothen, Syam Pushkaran, Soubin Shahir, Rajesh Nair and Midhun Manuel Thomas, have called the trailer of the much-awaited movie a mind-blowing one.
The upcoming movie "Kammatipaadam" narrates the story of an old place in Kochi that was once the heart of the city. As part of the city's development, the area was divided as North Giri Nagar, Kumaranashan Nagar, Gandhi Nagar and Jawahar Nagar.
The Dulquer-Rajeev starrer movie also features Rasika Dugal, Vinay Forrt, Shine Tom Chacko, Suraj Venjaramoodu, Alencier Ley and P Balachandran in pivotal roles. Scripted by P Balachandran and produced by Prem Menon under the banner of Global United Media, "Kammatipaadam" is scheduled to hit the screens on May 20.
Check out what celebrities have to say about "Kammatipaadam" trailer:
Farhaan Faasil
The Rajeev Ravi is back !!!! Brilliant Trailer !!!!! Waiting :))
Lijo Jose Pellissery
Looking forward
Gregory Jacob
Here is the rocking trailer ! ‪#‎Kammatipaadam
Sunny Wayn
Killer trailer!!!!!! Raajivetta cant wait to watch your treat till may 20th.
Govind P Menon
Ithaanu poli.. Vann poli .. Rajeev Ravi inga verum kaalamaadanaanu...
Rajesh Gopinadhan
Oru kalippu trailer....
Khalid Rahman
Can't wait..
Srindaa Arhaan
Kammattipadam ‪#‎May20 ‪#‎superexcited
Roopesh Peethambaran
Ayyoooo, oru rakshayum ellaa!! May 20th, can't wait!! Kammatipaadam.. Pedaa Trailer!!
Vinay Forrt
Kickass#gooose bumps#awesomeness#KAMMATIPADAM .. Rajeev ravis magic ,don't miss it guys
Vinay Govind
Thats a powerpacked trailer...!! and whatte rocking track...!! FDFS..!!!
Watch the trailer of "Kammatipaadam" here: