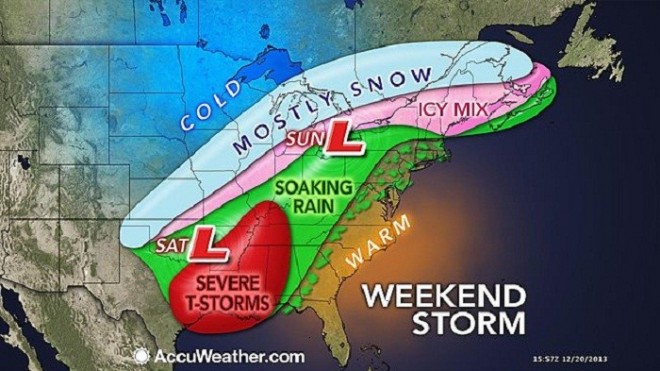 "Here comes the sun, And I say It's alright Little darling, It's been a long cold lonely winter..." This Beatles song would be the wishful tune, many on road around the Christmas would be humming, as worst weather is expected to hit the United States and Southern Canada days prior to Christmas.
Icy conditions are already prevalent in Chicago and Detroit, while light snow across the central Great Plains and the western Great Lakes is expected to intensify. Kansas City, Missouri, and Milwaukee could get snowfall up to 10 inches.
Similar to the days before Thanksgiving, worst weather is expected to continue prior to Christmas and hundreds of travellers taking the road or the winter skies will face delays.
Major airport hubs from Dallas to St. Louis, Chicago, Detroit, Atlanta, New York City and Boston may severely be affected due to the storm.
As per Flightware, a flight-tracking website, with the first wave of the winter storm that froze Salt Lake City on Thursday, more than 230 flights were cancelled.
The icy weather is expected to continue in New England and Canada till Sunday and could also paralyse the State if power lines get knocked off.
The tornado threat will be effective through Saturday, which is coincidentally also the first day of the winter. The tornado danger threat is active through eastern Texas, northern Louisiana, Arkansas and western Mississippi.
All the areas that typically get a White Christmas will continue to have their 'holiday weather,' but the biggest treat this winter will for Kansas that may enjoy a rare 'snowy Christmas.'
Along with Kansas, Minneapolis, Green Bay, Duluth, Madison, Traverse City and Des Moines will also see a White Christmas, whereas St. Louis, Joplin, Detroit, Buffalo, Cleveland, Springfield (Mo.), Indianapolis, Cincinnati, Pittsburgh and Albany will be missing out on the thrill.