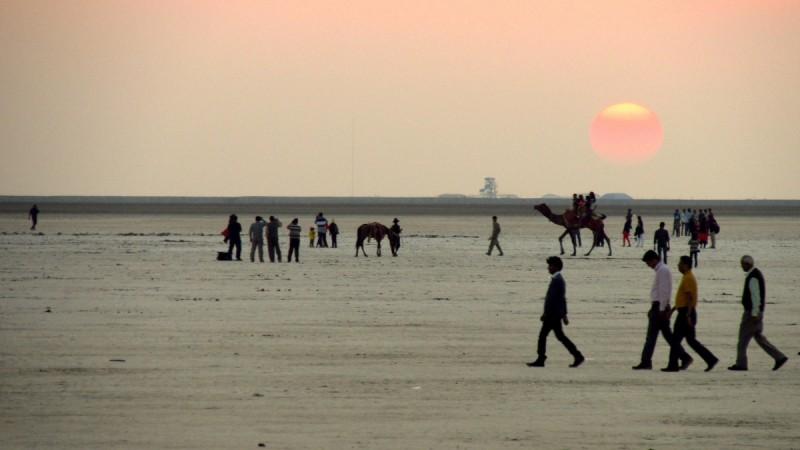 If you are a travel lover and continuously seek new and unique experiences, then this article is written for you. With the approaching winter vacations and New Year season, everyone is planning their trips. However, if you are truly interested in an experience which will stay with you forever, then you should probably think about visiting the Great Rann of Kutch in Gujarat this December.
The Great Rann of Kutch is one of the largest salt deserts in the world. The entire stretch of land is spread across 7,500 square kilometres and serves as the perfect destination for all those who seek a unique type of adventure.
During the cold winter nights, the travellers can stay in tented accommodation at the Great Rann of Kutch and enjoy the beauty of this white desert. A special event is organized every year in this vast expanse of salt desert – called the Rann Utsav.
You can choose to stay in luxury tents or home stays as per your budget and also engage in a number of activities like desert safari, ATV rides, paramotoring, etc. Being a part of the Rann Utsav also lets you experience the Gujarati or Kutchi culture closely and leaves you with tons of memorable moments.
But, why is December the best time to visit the place?
First, the Rann Utsav is organized during the winter months of November, December, January, and February. Second, the experience of stargazing on the moon-lit night during this time is out of the world.
This year, December 21, 22, and 23 are predicted to be full moon nights at Rann of Kutch and you should plan your visit sometime around these dates. Also, there are chances that there will be a rush for bookings so it is better that you finalise your plan at the earliest.
However, for those who cannot make it to Rann of Kutch in December, they can enjoy the same views during any other winter months. If the idea of staying in a white desert interests you, check out Rann Utsav official website to know what all it has to offer. Enjoy your new year!