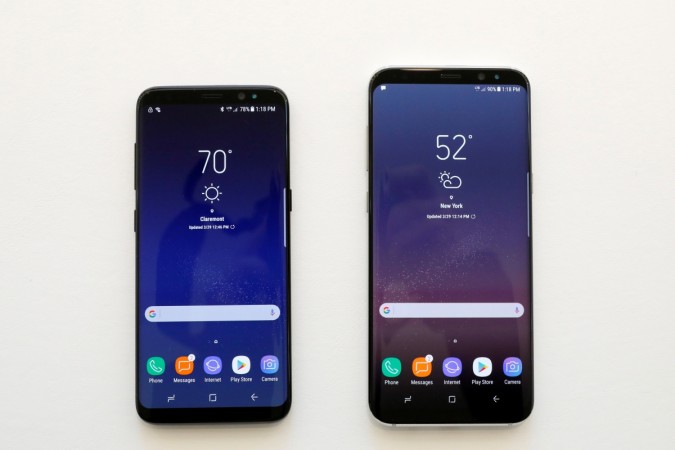 South Korean tech giant Samsung has already confirmed the launch dates of the Galaxy S9 and the S9+, but leaks and speculations are showing no signs of slowing down.
On January 26, popular leakster Evan Blass (aka @evleaks.com) posted a new leaked image on his Twitter account showing the rear components of Sammy's Galaxy S9 and S9+ flagship phones.
The leaked image shows the rear component on the larger Samsung Galaxy S9+ featuring two vertical-mounted cameras with two 12MP+12MP camera sensors. The right side of the image showcases the rear layout of the Samsung Galaxy S9 with a single 12-megapixel camera sensor.
The render reveals that the Galaxy S9 and S9+ will be able to capture video at 720pixels and slow-mo videos at 480fps (frames-per-second). The iPhone X is capable of recording slow-mo videos at 240fps, so we can expect that the slow-mo videos captured with the Galaxy S9 and S9+ will be better compared to those from the iPhone X.
The Samsung Galaxy S9+ comes with dual camera-setup, one with a fixed aperture, which will be used as Zoon lense like the one used on the Note 8.
If we see Samsung's last year's lineup, the placement of the fingerprint scanner on both the Galaxy S8 and Galaxy S8+ faced a lot of criticism.
The biometric scanner was too close to the rear camera lens. Some users even ended up smudging the rear lens as a result. Later, Samsung put the flash module in between the lens and the biometric scanner to reduce confusion.
Finally, here are the rear component layouts: pic.twitter.com/r8GYVbzt44

— Evan Blass (@evleaks) January 26, 2018
The leaked image shows that Samsung has gone vertical with this year's flagship phones. The company has placed the fingerprint scanner below the rear camera, which will make it easier for users to unlock the phone. This placement of the biometric scanner will reduce the possibility of smudging the rear camera while unlocking the phone.
Evan Blass had leaked the front part of the Samsung Galaxy S9 and Galaxy S9+ smartphones before posting the image of the rear components. The leaks show the new flagship of Samsung looks similar to last year's S8 series with Infinity display with minimum bezels.
These are the Samsung Galaxy S9 and S9+ https://t.co/deXGg39m0d pic.twitter.com/RNGezrF4Bs

— Evan Blass (@evleaks) January 26, 2018
The render reveals that the side bezels on the Galaxy S9 and Galaxy S9+ are thicker but not more than expected. Samsung may have adopted this design to improve the durability of the smartphone.
Samsung has already confirmed it will be unveiling the Galaxy S9 and the Galaxy S9+ on February 25, 2018, at the Samsung Unpacked event in Barcelona, one day ahead of the MWC (Mobile World Congress) 2018.